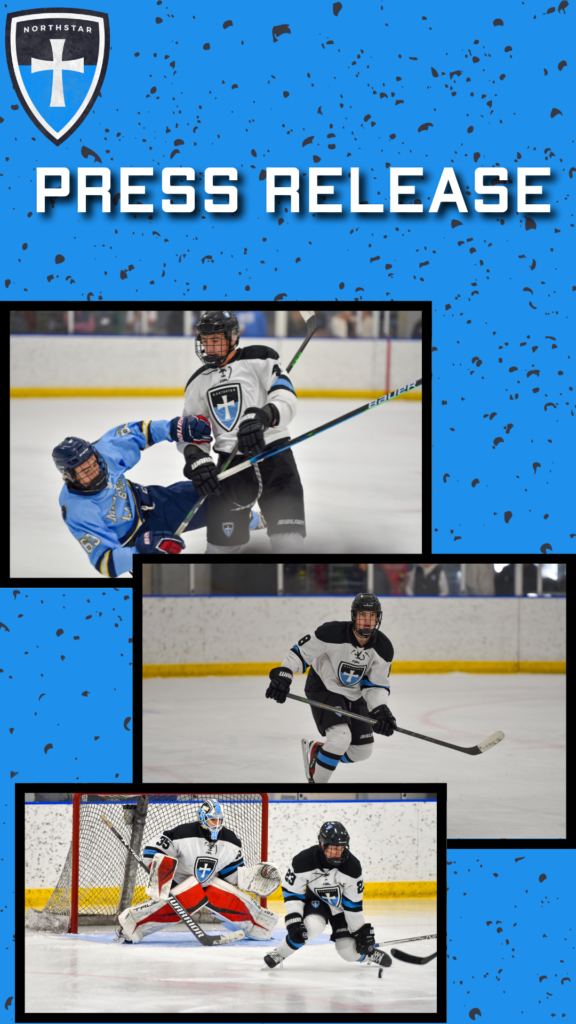 Alexandria, MN (Sept. 29, 2022) 
For more information, contact: Johnny Van Atta, Director of Hockey Operations (615) 830-1113, [email protected] 
The Northstar Knights 16U and 18U Prep swept the Minnesota Lakers in their home opener this past weekend. 
The 16U Knights battled hard in an even matchup against the 16U Lakers winning both of their games 4-3. On Saturday, Tyler Dahms and Evan Ledan scored goals while Grady Stallman added 2 with his second being the game winner with 1:11 remaining in the game. Lucas Schoenborn contributed with 2 assists and Merik Grinaker stopped 29 of 32 shots to win his first game of the year. Sunday was another close matchup as the Knights were tied 3-3 as regulation time ended. In overtime, Lincoln Hjelm took advantage of a power play opportunity as he fired a one timer from the left circle that beat the goaltender for his second time that game and to give the 16U Knights a 2-0 record for the weekend. Michael Mathison and Bode Laylin were the other goal scorers in the game and William Bisset added 2 assists, both of which came on the Power Play. Grady Stallman leads the Knights with 8 points (5G, 3A) and owns 26% of the Knights goals on the season. William Bisset is second on the Knights with 6 points (1G, 5A) followed by Lincoln Hjelm (2G, 3A) and Jake Spreatz (1G, 4A) with 5. 
The 18U Knights defeated the Lakers 8-0 on Saturday night. Dawson exploded with a 4 point night (3G, 1A) and other Knights to score were Caleb Elfering, Bronson Hunt, Cooper Fredericks, Joe Stauber and Landon Dauner. Tanner Hunt and Bauer Berry each added 2 assists. Beck Lidén stopped all 20 shots he faced for his first shut out of the year. On Sunday, the Knights won by the score of 9-2. The Knights were led by 4 point games from Landon Dauner (2G, 2A) and Ryan Murphy (2G, 2A). Kaleb Pitman and Caleb Elfering also added 2 goals a piece. Jake Lundeen rounded out the scoring by adding his first goal of the year. Shane Burns, Bronson Hunt, Brady Jones and Dawson McCann added 2 assists each. Noel Friedman got his second win of the season by stopping 23 of 25 shots for a .920 SV%. Through the first 6 games of the season, Bronson Hunt leads the Knights with 13 points followed by Caleb Elfering (11) and Ryan Murphy (8). Landon Dauner leads the team in goals (6) and Bronson Hunt leads the team in assists (9). Through the 2 game weekend, the Knights outscored the Lakers 17-2 and outshot 104-45 on the weekend to go along with 4 power play goals on 6 opportunities. 
The Knights will return to action when they travel to Fargo, ND for the Fargo Force Showcase on October 7-9.