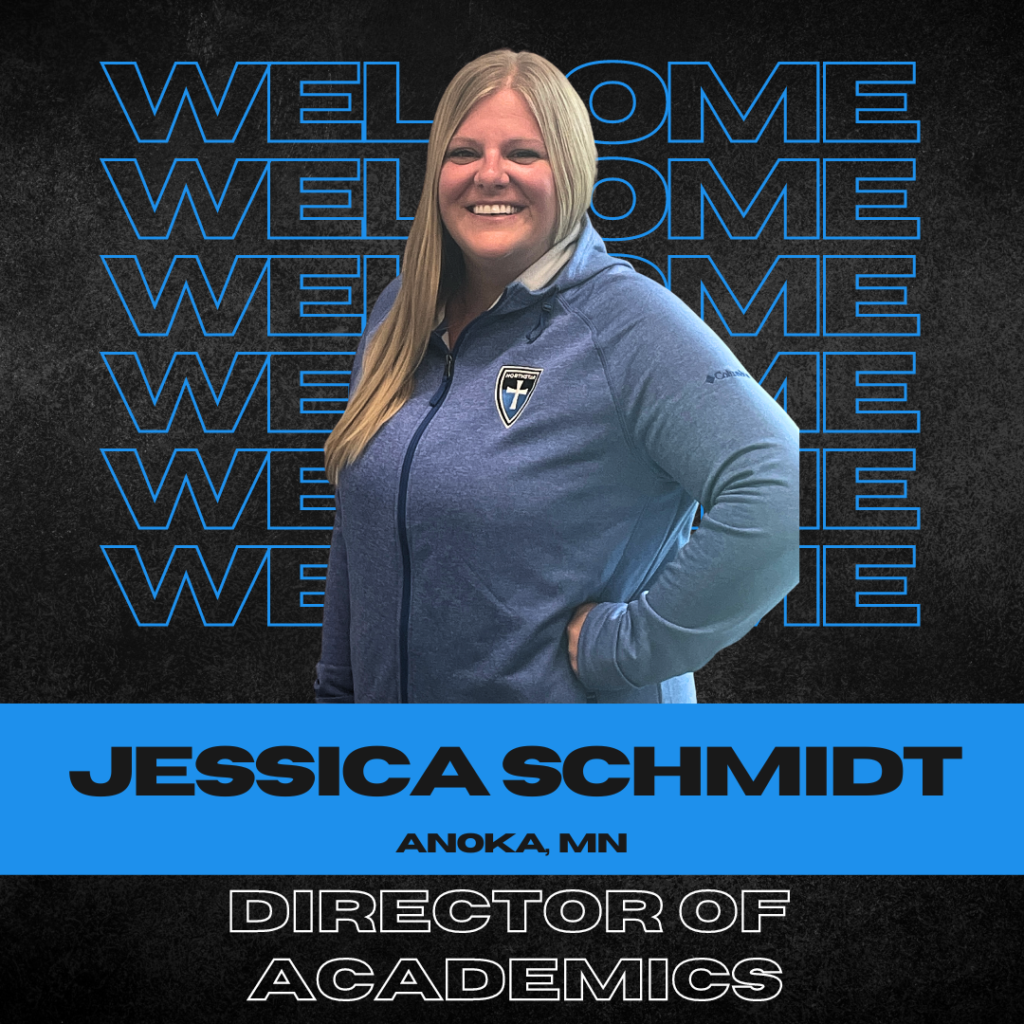 Alexandria, MN (July. 28, 2023) 
For more information, contact: Johnny Van Atta, Director of Hockey Operations (615) 830-1113, [email protected] 
The Northstar Knights are excited to announce the addition of Jessica Schmidt as the Director of Academics. In her role, Schmidt will be responsible for academic advising, student affairs and educational leadership. We are excited to have Jessica Schmidt join our staff as academic Director", said Interim Northstar Director, Dallas Steward. "Jessica's leadership brings abilities and experiences enhancing NorthStars desire for quality education and passion for discipleship."
Schmidt began her journey by earning her Bachelor's in Elementary Education from St. Cloud State University. From there, she earned her Master's in Educational Leadership and Administration from Grand Canyon University. She is currently working on earning her Master's in Special Education. Among her qualifications, Schmidt has her Minnesota Teaching License and is a certified ACSI Principal, which allows her to be a principal for grades K-12.
Schmidt started out her education career at Life Christian School, a preK-12th grade school in Aloha, OR. She began as a general education teacher in upper elementary.  From there, she was promoted to  administration where she served as Athletic Director and then moved into the Principal role. Her job duties included developing standardized curricula, assessing teaching methods, monitoring student achievement, administering the budget, hiring, fundraising, evaluating staff, and overseeing facilities. 
In 2020, Schmidt moved back to Minnesota where she served as the Assistant Director of Academics at Northstar until August 2021. While serving in her first stint at Northstar, Schmit provided strategic direction in the school system, monitored student achievements and made sure students were following NCAA regulations.
From 2021 to 2023, Schmidt held the role of Special Education Teacher for the Alexandria Area School District where she would build connections with students with disabilities and their families to advocate for their specialized education plan.  She would also collaborate with general education teachers and specialized service providers to create, maintain, adapt, and establish an individualized education plan.  
Jessica is married to Eric Schmidt who is a worship pastor at The Church in the Pines in Alexandria.  Together, they have four children: Kobe, Gavyn, Fiona and Milo.  
"I'm thrilled and honored to be welcomed as the Director of Academics at Northstar", Schmidt said. "I am looking forward to continuing the drive for excellence in the classroom that has been established. Building connections and sharing the love of Christ with the students is something I have a passion for. With my experience in education and transformative leadership style, I plan to bring the academic culture to a new level of collaboration, student-driven, and self-motivating.  Partnering with parents is necessary for the success of the student's academic journey and I can't wait to build those relationships. I give all the glory to God and feel extremely grateful for this opportunity!  Go, Knights!"  
The Knights begin their year September 11th and their first games will be September 15-17 at the Minnesota Blades showcase in Blaine, MN. Stay tuned in the coming weeks for the full 2023-24 season schedule!