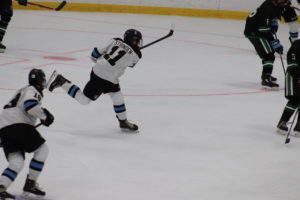 The Northstar Knights are pleased to announce that Ben Strinden (Fargo, ND), Class of 2021, has committed to the University of North Dakota. Strinden, a forward, is the first player in Knights history to commit to an NCAA Division I program. 
""No one has worked harder than Ben Strinden to achieve this tremendous accomplishment," said 18U Coach John Olver. "For the last two years, he has taken full advantage of the facilities available here at Northstar and he has raised his game to an elite level.
"Ben is a champion in every aspect of his life – on the ice, in the classroom, and most importantly in his relationship with Jesus Christ."
Strinden is still enrolled in school at Northstar, but will be spending this season with the Muskegon Lumberjacks in the USHL. A two-year player for the Knights, Strinden tallied 55 goals and 62 assists for 128 career points in 100 career games. He's also the answer to a Knights trivia question, as he scored the first goal in Knights history.  Selected to play in the NAPHL All Star game in 2019, he gave his spot to another teammate as he was already tendered with the Minot Minotauros of the NAHL. He recorded one goal in one game played with Minot last season. He was then selected by the Lumberjacks in the sixth round, 82nd overall in the 2020 USHL Phase II Draft. 
Strinden was no stranger to Northstar's staff prior to joining the Knights, as he has been involved with FCA Hockey since 2009. He has participated in multiple FCA Camps, as well as participated with Team FCA in the Chowder Cup. He was also honored as FCA Hockey Athlete of The Month in June 2019. 
Ben and his family have been heavily involved with FCA Hockey since Rick Randazzo visited Fargo in 2009 and stayed at their house while running skills camps in Fargo and Grand Forks. 
"Watching Ben grow from a seven year old to a college commit has been pure joy," said Randazzo. "His hard work, determination, and competitiveness has allowed him to be recruited by one of the top programs in the country. His story is the blueprint for all current and future Knights who aspire to play college hockey. Ben exemplifies everything that we stand for: spiritual development, academic advancement and athletic excellence."
The Knights are extremely proud of Ben's accomplishment and wish him all the best moving forward this season and for years to come. Congratulations, Ben!