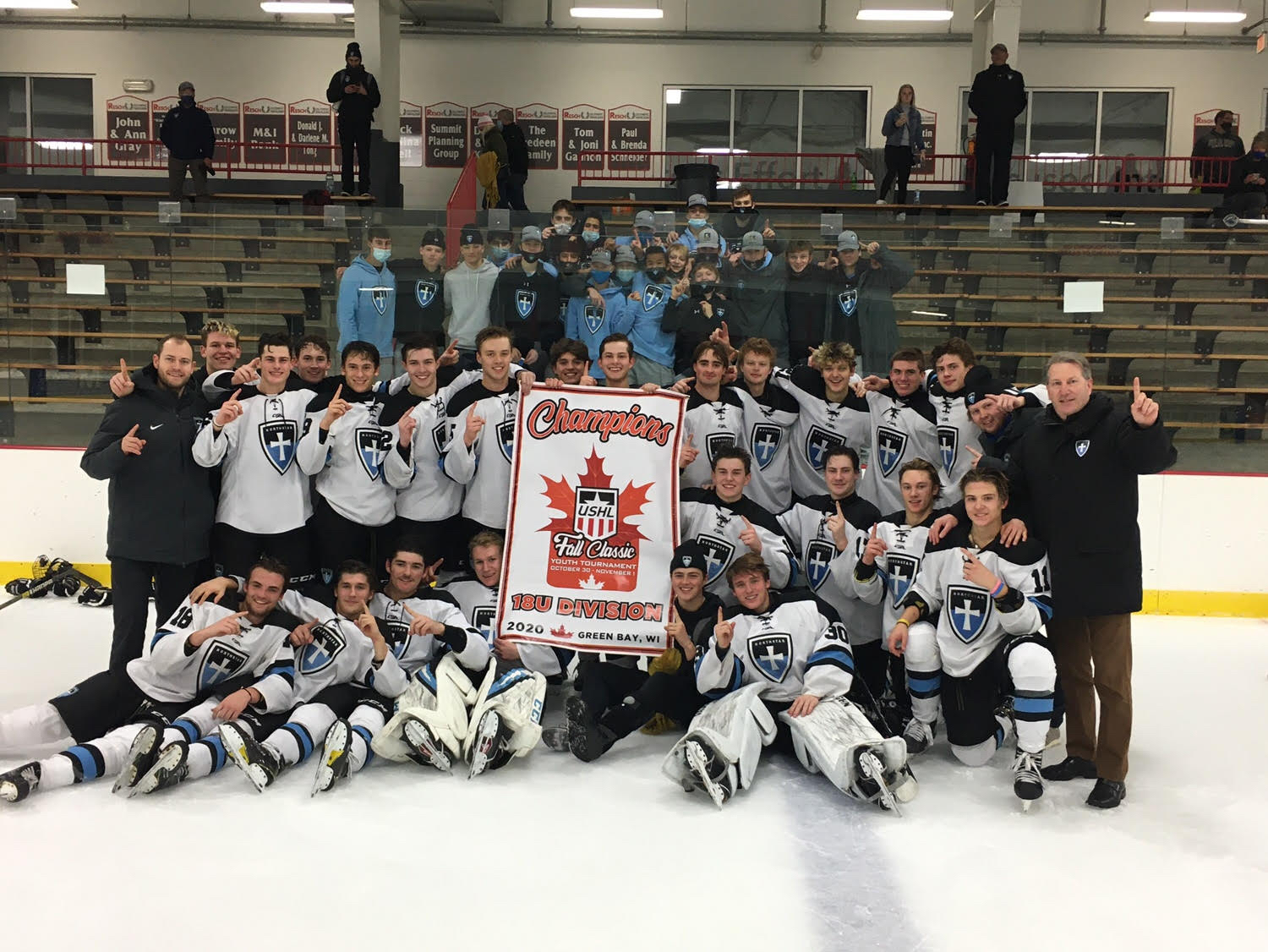 GREEN BAY, WI
– After a hectic week that included game cancellations, schedule changes, and last minute travel adjustments, the Northstar Knights 18U team  showed that regardless of the location or opponent, they come ready to play! The team went 4-1 on the weekend to win the USHL Fall Classic, outscoring opponents 21-9 in the process.
Friday night's opening game had the Knights capture a win over the Oakland Jr. Grizzlies. Calvin Hanson opened the scoring for the Knights late in the first period, followed shortly thereafter by Maks Bure. Joe Westlund would add a third goal in the second. Oakland would strike twice late in the third to close the gap to one, but Owen Hanson's empty netter sealed the deal for the Knights victory, 4-2. Logan Verpoort played strong in net, stopping 15 of 17 shots faced on the day.
Saturday's first game against the Anaheim Jr. Ducks proved a challenge for the Knights, who saw their early 2-0 lead fall in a 5-2 loss. Jacob Napier and Blaise MIller scored for the Knights. Miller added an assist, as did Joe Westlund. Chris Brown stopped 21 shots in net.
Saturday afternoon saw a Knights team rebound from the earlier loss with a commanding 6-1 win over the Colorado Thunderbirds.Reese Laubach would open the scoring for the Knights, followed by a shorthanded Calvin Hanson goal. Blaise MIller and Owen Hanson would score back to back powerplay goals, and Calvin Hanson added his second of the night and Ashton Christman his first to finish off the scoring. Verpoort again played strong, stopping 10 of 11 shots in the win.
Sunday morning's semifinal was a rematch against the Jr. Ducks, but a rejuvenated Knights squad exacted revenge in a 6-1 win. The Knights power play was automatic, going four for six on the day, with two goals from Kade Peterson, and one each from Cody Croal and Owen Hanson. Maks Bure and Ahston Christman would also score in the game. Brown stopped 12 of 13 shots to win it for Northstar.
After the game, the Knights had the unique honor of having Travis Green, head coach of the NHL's Vancouver Canucks, come in and speak to the team. Green's son was a member of the opposing Anaheim team, and he complimented the Knights for the passion and compete level displayed in their two games vs. Anaheim.
Sunday afternoon's final had the Knights again facing a familiar opponent in Colorado. The Knights came out guns blazing, scoring twice in the first 70 seconds with goals from Peterson and Laubach. Cody Croal would add another goal in the third for the 3-0 victory. The Knights defense and relentless pressure gave Verpoort an easy day in net, as the Thunderbirds managed only four shots on goal.
The Knights are back in action this coming weekend at home against the Minnesota Blades.