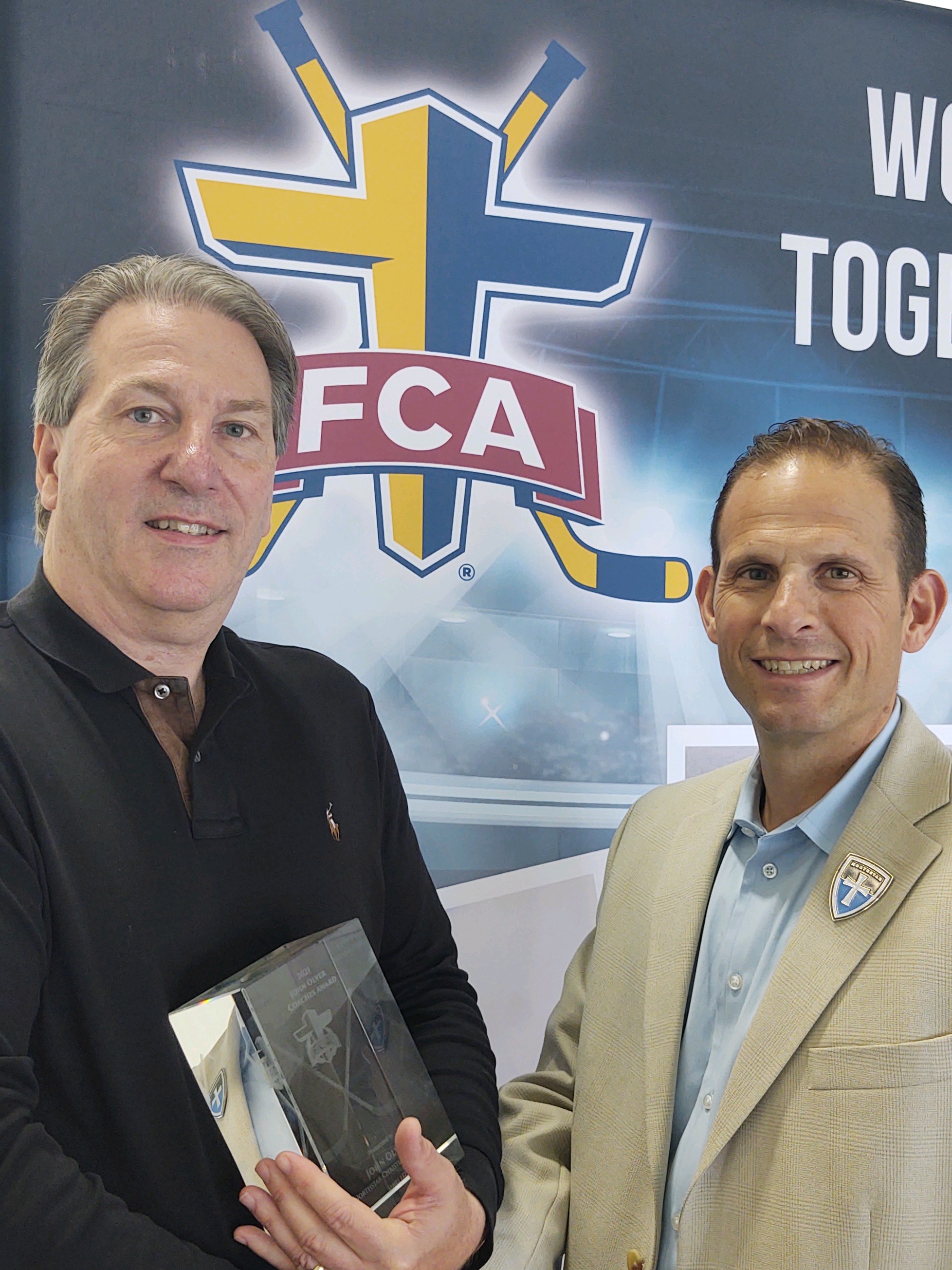 NorthStar Academy head coach John Olver was honored by the Fellowship of Christian Athletes

(FCA, www.fca.org) as the first recipient of the John Olver Character Award this past Friday, May 21.
The award, named in his honor, will be presented annually to a hockey coach who exemplifies the Christian principles of Service, Excellence, Dedication, and Love—both on and off the ice.
"There is no better way to establish the John Olver Award than by honoring Coach Olver himself as the first awardee, and we are honored to play a small part in celebrating J.O. and his achievements," said Col, USMC (Ret), President/CEO of The Albers Group, who is an FCA Board member, corporate sponsor of the award and former NorthStar Academy parent.
"Coach Olver has been instrumental in establishing NorthStar Christian Academy (NSCA) as a premier hockey program that cultivates both technical expertise and distinctive character in its players," said Rick Randazzo, Director of FCA Hockey and Director of NSCA. "We congratulate Coach Olver for not only his success in helping many of our athletes attain premier Junior Hockey placements, but more importantly for his pivotal influence upon all our athletes to live sacrificial, Christ-centered lives." 
John Olver coached at the professional, collegiate, junior, and prep level during his illustrious 40-year coaching career. Olver's impact upon thousands of athletes culminated with his final coaching job at NSCA.  During his tenure, he achieved a 100-10-2 record while impacting the NSCA players for Christ. Olver's dedication to servant leadership was evidenced by his decision to work away from home in order to lead three different classes of young NSCA men to excel in hockey and live for Jesus.
To learn more about FCA Hockey, visit fcahockey.org.
FCA's theme for 2021 is Pursue, which is based on 1Timothy 6:11: "Pursue righteousness and a godly life, along with faith, love, perseverance, and gentleness."
FCA encourages its members to pursue God's use of His Word as an anchor, grounding Christians as they look to His Kingdom.
Read more about Fellowship of Christian Athletes here, visit FCA's website at www.fca.org, its Facebook page at www.facebook.com/TheFCATeam or its Twitter feed https://twitter.com/TheFCATeam.