The Northstar Knights played a home-and-home series over the weekend against the Minnesota Blue Army.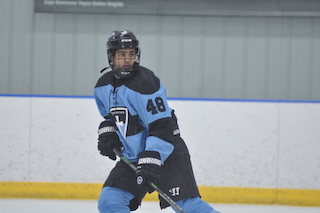 The U18 Knights had to face some adversity against the Blue Army on Saturday. Although they heavily outshot their opponent 49-10, they had only 2 goals from Cody Croal to show for it heading into the final minute of the game. With 9 seconds remaining and the Knights on the Power Play, Kaleb Pitman skated into the zone and fired a shot off the post and into the net to give the Knights a 3-2 lead. "I just got the puck and saw that I had a shot open so I just ripped it as hard as I could", said Pitman. Pitman is now up to 11 goals in 15 games this season with 3 from the man advantage and 2 while being short-handed.
When asked about the team's performance on Saturday, Head Coach Rylan Galiardi said, "I thought it was good for us to be in a tight game and we've had games this season where pucks have gone in for us and they weren't going in but guys stuck with it and were rewarded at the end of the game. I think we grew a lot in that game to figure out what it's like to be in a tight game late."
Sunday was a bit of a different story for the 18's. On home-ice, the 18's had a resounding 5-0 win with CJ Keir posting a 12 save shutout. Helping Keir with the shutout on the blueline was Mitch Simmons, Brian Morse, Tyler Johnson, Christian Carto, Nate Farrell, Luke Russell, and Logan Anderson. Goals were scored by Nathan Huntington, Dylan Cook, Coady Croal, and Dawson McCann, who scored twice. Kaleb Pitman and Christian Carto each had 2 assists in the game. With the goal on Sunday and his 2 goal performance on Saturday, Croal is starting to heat up as he has put up a whopping 10 goals in the past 7 games and is currently on a 4-game goal streak.
As Croal has improved, so has the rest of the team. Galiardi said, "Sunday was a little bit of a slow start but then we showed what we can do as a team in the second half of the game. When we come in waves like that, you can see that the opponent didn't have any fight left and that's how we have to play. We gotta chip away and it's not always just going to be easy for us and we've got to find ways to continue to stick within the game and I think we did that Sunday. Overall in the weekend we learned a lot and grew in some different areas and we're back to work this week"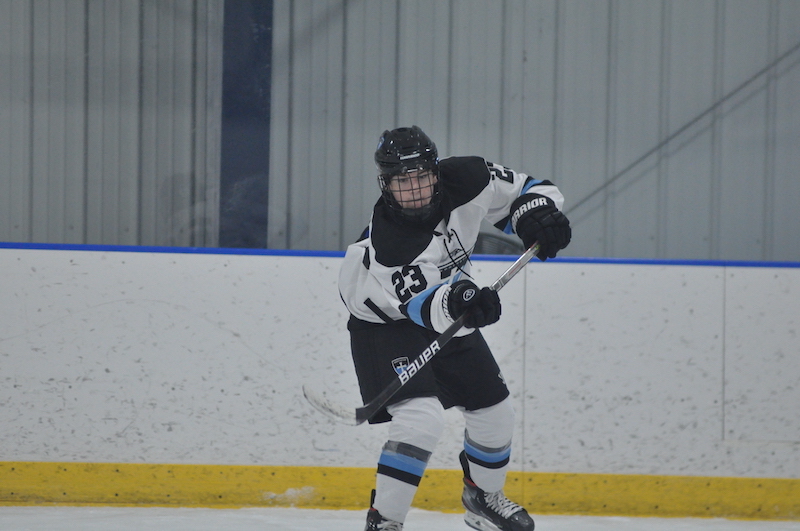 The U16 Knights lost on Saturday 4-1 to a very strong U16 Blue Army team who ranked #47 going into the weekend. The lone goal came from Landon Dauner and Goaltender, Beck Lindén, who stopped 21 of 25 shots against. However, on Sunday, the team turned things around as they won 4-3. Sam Kartch had a big game as he scored twice which brought his goal total to 13 on the season. Kartch is also the leading point scorer on the team with 21. Landon Dauner and Brayden Berg also scored in the game with assists coming from Dauner, Jacob Lundeen, and Gavin Hruza (2). Max Weilandt was strong in net as he made 27 saves for a .900 SV%.
After the game, Head Coach Tim Jackman liked what he saw from his team saying, "Our guys really came in this morning prepared to do the hard things that it takes to win. I thought our guys had really good sticks and were just a determined group early in the game and we're disciplined and got pucks to the net and it was nothing pretty but our guys just played as a team and played hard and played for each other and that's how teams go and that's how teams win hockey games.
At the end of the game, guys were blocking shots finishing their hits even when they were tired so it was a really good bounce back and a really good response for our guys and I'm excited for them to see us take off. We've got four straight games at home and you always want to get off to a good start in your own building so that was a great finish to the weekend for us."
The Knights play at home this coming weekend as they take on Team North Dakota with the 16's playing at 5:00 PM and 18's at 7:30 on Saturday. On Sunday, the 16's play at 9:00 AM, and the 18's play at 12:00 PM.

Alexandria, MN (Oct. 19, 2021)
For more information, contact:
Johnny Van Atta, Director of Hockey Operations