The Northstar Knights had 9 players sign tenders with NAHL organizations so far this season.

Those that signed were: Goaltender, CJ Kier, Defensemen Mitch Simmons, Tyler Johnson, and Brian Morse and forwards Dylan Cook, Cody Croal, Carter Olson, Ashton Christman and Jaxon Grosdider.
As the Knights program continues to grow, so does the recognition. "It's great to see some individuals recognized," said 18U Head Coach Rylan Galiardi. "I think it's a testament to our team that these individuals can stand out.
Northstar is gaining a reputation as guys that are prepared and well-coached. We're just gaining a reputation because of our three pillars in the Spiritual, Academic, and Athletic area, so coaches know now that they are getting warriors that come out of Northstar."
The first signing of the group was C.J Kier who signed with the Bismarck Bobcats. Kier is in his second year at Northstar Christian Academy and first year on the 18U team. In 16 games played, he is 14-2-0 to go along with a .941 SV% and a 1.06 GAA.
"I am super excited to sign a tender with such a historic club in the NAHL" Said Keir. "They have excellent hands-on goalie coaching every day and I cannot wait to work with them.
Although this is special and such an honor, I will continue to work every day to be the best goalie and teammate I can be here at Northstar, which will help me be prepared for next season."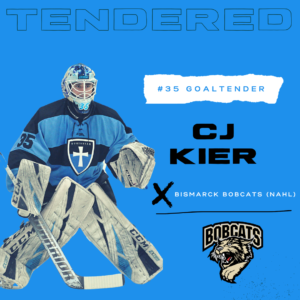 Knights Defenseman, Mitch Simmons, also signed with the Bismarck Bobcats. Standing at 6'4 and 215lbs, the right-shot defenseman has been a shutdown defender for the Knights this season.
Although he offers a big defensive presence, he can also provide a spark to the offense as he has produced 4 goals and 18 assists in 26 games this season. Simmons said of the signing, "I want to thank Northstar for making me become my best self and I just want to thank the Bismarck Bobcats organization for giving me this opportunity."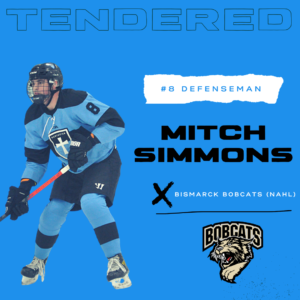 Defenseman Tyler Johnson signed with the Lone Star Brahmas. From Superior, Colorado, Johnson has been a steady two-way defenseman for the Knights this season, scoring 3 goals and adding 8 assists in 22 games.
"I am very excited to continue my hockey career at Lone Star. I would like to thank God, my family, friends, and Northstar Christian Academy for helping me reach my goals."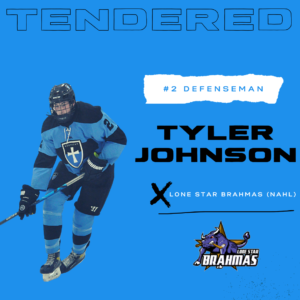 The 3rd defenseman for the Knights, Brian Morse, signed with the Fairbanks Ice Dogs. Morse has totaled 4 goals and 34 assists in 26 games this year to average out to 1.46 points per game.
His 34 assists rank first on the team. Morse is also a key piece on the Knight's Power Play unit, as he has added 1 goal and 11 assists on the man advantage.
"I am super excited and blessed to be able to sign a tender with such a great organization like Fairbanks" Morse said. "I would like to thank my coaches, family, and friends for everything they have done to get me here. I am super excited to get up there and start working."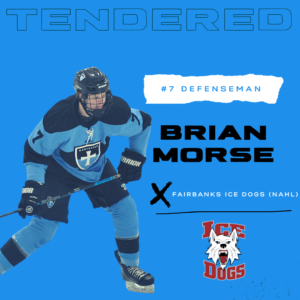 Forward Cody Croal signed with the Austin Bruins. Croal has been one of the Knight's best forwards so far this season.
Croal has 20 goals and 30 assists for 50 points in 27 games played. He leads the Knights with 1.85 goals per game.
Croal said of his signing, "I am very excited and blessed for the opportunity to sign a tender with Austin. I would like to thank my family, friends, Northstar Christian Academy, and most importantly, God."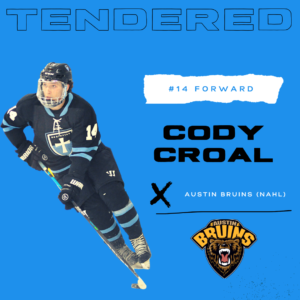 Joining Croal in Austin will be forward Dylan Cook. The Princeton, Minnesota native has played on the Knights' top line this season and has scored 18 goals and 28 assists in 28 games played.
"It is super exciting that I got the opportunity to sign a tender with Austin. Growing up, I have been able to go down there a lot for family and it is super cool that I have gotten this chance to play there.
I can't wait to finish the year with Northstar and can't wait to see what the future holds."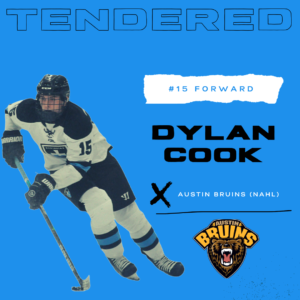 Forward Ashton Christman signed with the Kenai River Brown Bears. In 28 games played, the 6'1, 180lb Christman has scored 15 goals and added 16 assists for 31 points and 1.11 points per game.
Christman said, "I'm excited to sign with Kenai and I believe they have what I need to grow on and off the ice. This organization seemed like the perfect fit for me. I would like to thank my family, friends, coaches, and God who have pushed me to be where I am today."
Forward Jaxon Grosdidier signed with the Aberdeen Wings who won the Robertson Cup in 2019 and were runners up last season. In 24 games this season, the Sioux Falls, South Dakota native has contributed 9 goals and 12 assists.
"I am super pumped to play in my home state again in front of my friends and family", said Grosdider.
"Aberdeen has a rich history of winning and moving players on to D1. I would like to thank my parents and coaches for pushing me to be the best version of myself and for getting me where I am today. I am super excited and cannot wait to be a Wing!"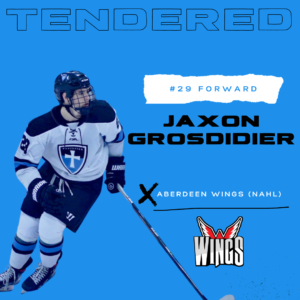 Forward Carter Olson signed with the Minot Minotauros. Olson was the only newcomer this season for the 18U Knights, coming over from Team Wisconsin and Eau Claire Memorial High School. He has 21 points in 27 games with 6 points coming on the Power Play.
"I am extremely excited to sign with Minot," Olson said. "They have a great organization and facility to grow as a hockey player and as a person. I would like to thank my coaches for helping me get to where I am today. I can't wait to be a Tauro!"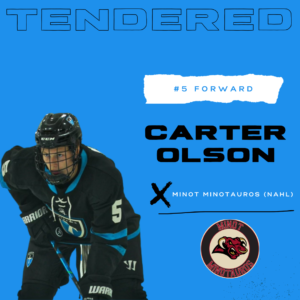 The Knights play at home this weekend against Carshield on Saturday, December 4th at 5:00 PM and 7:30 PM and Sunday, December 4th at 8:30 AM and 11:00 AM.
Alexandria, MN (Dec. 2, 2021)
For more information, contact:
Johnny Van Atta, Director of Hockey Operations