After an excellent weekend of hockey at the Northstar Knights Showcase, The Northstar Knights 16U and 18U teams both went a perfect 3-0 this past weekend. 
The 16U Knights entered the weekend on a 12-game regulation unbeaten streak, with their last regulation loss dating all the way back to December 5th. Over that time, the Knights outscored their opponents 49-14, which averages out to around a score of 4-1 per game. The theme of the weekend was strong defense and goaltending which propelled the Knights to 3-0 wins against Rocky Mountain Roughriders, Milwaukee Jr. Admirals, and Sioux Falls Power. Along with stout defensive play, Beck Liden and Max Weilandt provided the Knights with a steady presence in the net. "They played amazing – probably the best they've played all year," said defenseman Shane Burns. "We're growing as a group and it is showing on the ice." Lidén stopped all 14 shots he faced on Friday night and then made 26 saves for another shutout on Sunday afternoon. Lidén now boasts a .933 SV% and a 1.64 GAA in 22 games played. Max Weilandt took the crease on Saturday and turned away all 30 shots he faced while also making some highlight-reel saves. "Both of us played really well and the team in front of us played well too," said Weilandt.  "We were focused and dialed into the game and when we do that, it is very hard to get pucks past us." With his shutout this weekend, Weilandt has a .923 SV% and 1.68 GAA in 19 games played. As mentioned by Weilandt, the defensemen in front of the goaltenders played well all weekend in Max Evans, Bauer Berry, Shane Burns, Dylan McCann, Andrew Leung, and Lear Voit.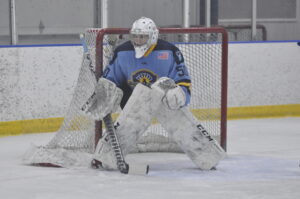 While the defensive game was the story for the 16U Knights, the 18U Knight's offense was the one that was rolling over the weekend. The Knights defeated Milwaukee Jr. Admirals 7-3 on Friday, then took down Rocky Mountain Roughriders 6-4 on Saturday, and finished the weekend off defeating the Sioux Falls Power 7-1 on Sunday. Over the entire weekend, the Knights scored 6.67 goals per game and allowed only 2.67 goals against per game. As usual, the Power Play was in full force as the Knights scored 7 power-play goals in just 17 attempts – good for a 41% conversion rate. Brady Jones had a team-high 3 assists on Friday night and shutdown defenseman, Nathan Mulder, contributed with his first goal since September 26th. On Saturday, Dylan Cook scored 2 goals as well as 2 assists and Reese Laubach scored twice as well. Cody Croal then turned in a 4 assist performance on Sunday to lead the Knights in a big win against the Power. "It was a great weekend playing for all the police officers and firefighters," forward Reese Laubach said. "We want to build off the momentum from this weekend heading into the NAPHL playoffs in Detroit in two weeks."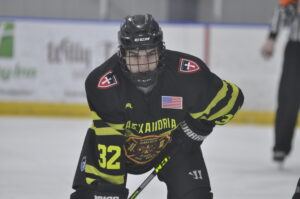 The Knights travel to Des Moines this weekend to take on the Jr. Buccaneers on Friday, February 4th at 1:30 PM and 4:00 PM4 and Saturday, February 5th at  30th at 9:00 AM and 11:30 AM.
Alexandria, MN (Feb 2, 2022) 
For more information, contact: Johnny Van Atta, Director of Hockey Operations (615) 830-1113, [email protected]