The Northstar Knights made history Thursday, July 7th when forwards, Ben Strinden and Reese Laubach were selected in the National Hockey League Draft.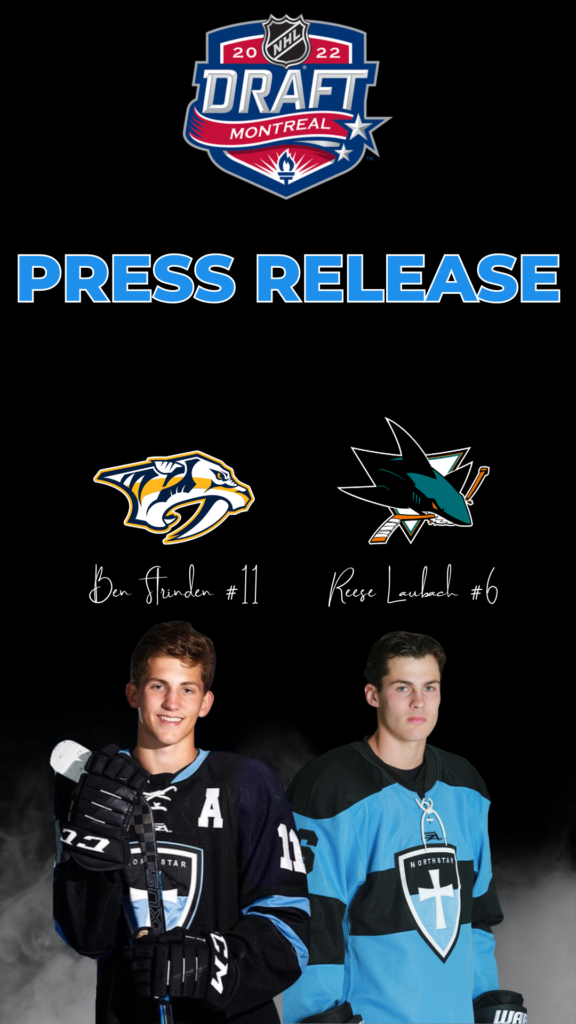 Strinden was selected by the Nashville Predators in the 7th round, 210 overall. The 6-3, 193-pound forward played for the Knights from 2018-2020 where he totaled 135 points (62 G, 73A) in 155 games played. He has played the last 2 seasons with the Muskegon Lumberjacks of the USHL. After scoring 10 points (1G, 9A) in 23 games in the 2020-21 campaign, Strinden broke out this past season scoring 56 points (25G, 31A)  in 61 games while adding 7 points (3G, 4A) in 9 playoff games. His productive season caught the eyes of the Predators scouting department. "He's a center with good size and is hard to play against," Predators North American Scout David Westby said. "He's another good competitor who we've targeted in this draft – great work ethic with speed." Strindens former coach, Tim Jackman, had plenty of praise for his impact on the Knights program. "I had the pleasure of being one of Ben's coaches for two years at Northstar," Jackman said. "He has had a lot of firsts for the Knights…first ever goal, first-ever junior goal, first NCAA division 1 commit, and now the first player drafted in the NHL. I got to see firsthand a young man who goes about his business the right way every day. I believe Ben has the pain tolerance, determination, and joy for the game of hockey that he will make someone in Nashville look very smart. Ben's a big-time player and an even better teammate and young man. Congrats to Ben, his family, and Nashville." Strinden credits much of his hockey development to his time in Alexandria. "I would not have ever been in this position if it wasn't for Northstar," said Strinden. "That's where I learned to be a hockey player, and most importantly to be a man of God and live out my faith in Jesus Christ." The Fargo, North Dakota native served as an alternate captain for the Lumberjacks this past season and is committed to playing collegiately at the University of North Dakota this coming season.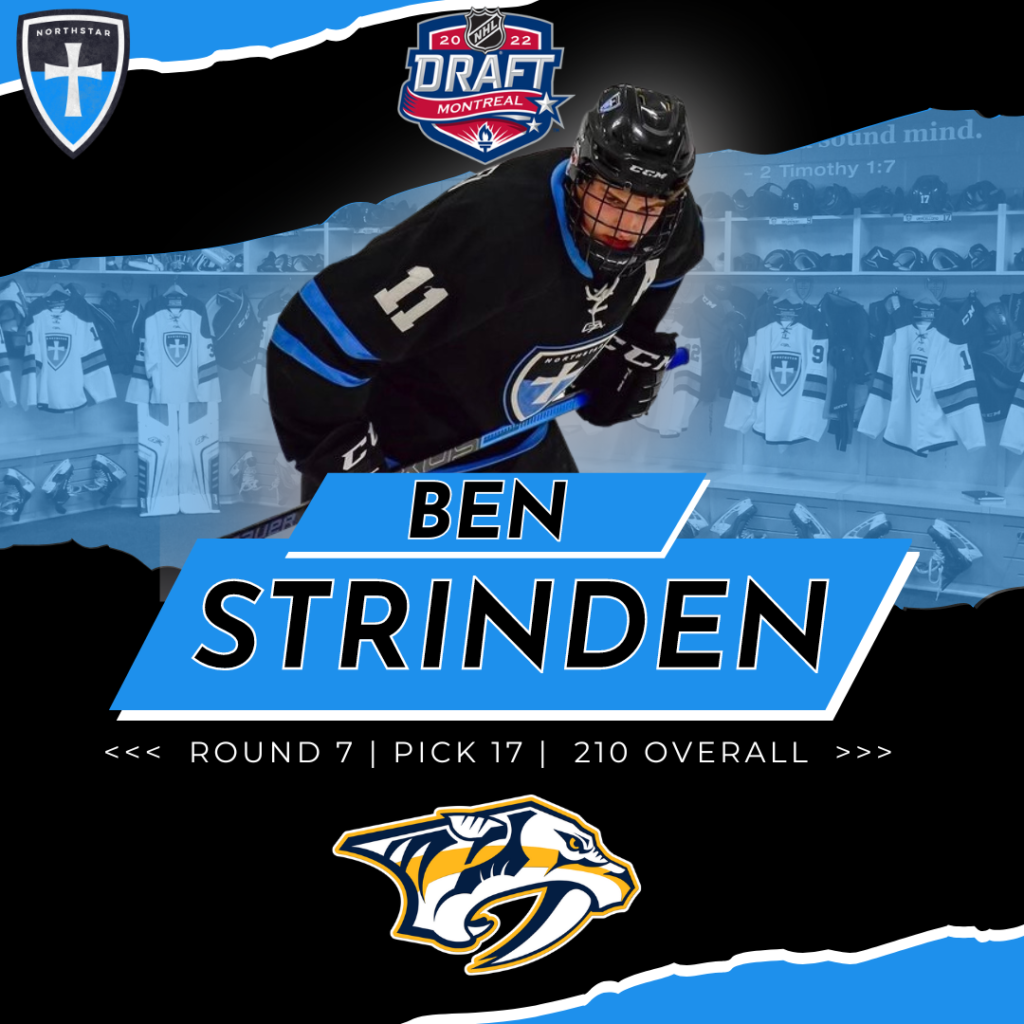 Laubach, a San Jose native, was selected by the San Jose Sharks in the 7th round, 217 overall, and will have the opportunity to play for his hometown team. "It's super awesome to be drafted by my hometown team, the San Jose Sharks," Laubach said. "Being from San Jose, it was always my dream to play for the Sharks one day, and for me to get picked by them, it's truly a dream come true. It's obvious that God has a plan for me, and He has always laid out my path in front of me." In his two seasons with the Knights from 2020-2022, Laubach smashed the record books racking up 177 points (84G, 93A) in 100 games played. His 177 total points and 84 total goals rank first in Northstar Knights history along with ranking him first in points (102) and goals (51) in a single season, both coming in the 2021-22 campaign. Laubach spoke highly of his development with the Knights both in his game and in his Faith. "I was placed at Northstar, and in my two years there, I grew tremendously as a hockey player, but more importantly as a Godly man," said Laubach. "I wouldn't be where I'm at today without my coaches and teammates from my two years at Northstar. They pushed me every day to be my best on and off the ice. I'm truly thankful for them. Yes, it is a big deal to be drafted, but I know that being selected is just the beginning. Lots of work to go. I'm super humbled and honored to be drafted by the Sharks." Knights 18U Coach, Rylan Galiardi, had high praise for Laubach. "Our program is proud of this recognition for Reese," Galiardi said. "To have a current player drafted is a credit to everyone involved at Northstar, especially his teammates. We preach both being a selfless teammate but also a competitive one and iron sharpens iron. Reese is a competitor with all the necessary skills to one day be a pro hockey player. However, it is Reese's character and leadership that stands out. The way he conducts himself in every situation illuminates what we're all about here in disciplining young men for Jesus to go out and impact the hockey world." Laubach will play for the Youngstown Phantoms of the USHL next season and is committed to playing collegiately at Minnesota State-Mankato in the 2023-24 season.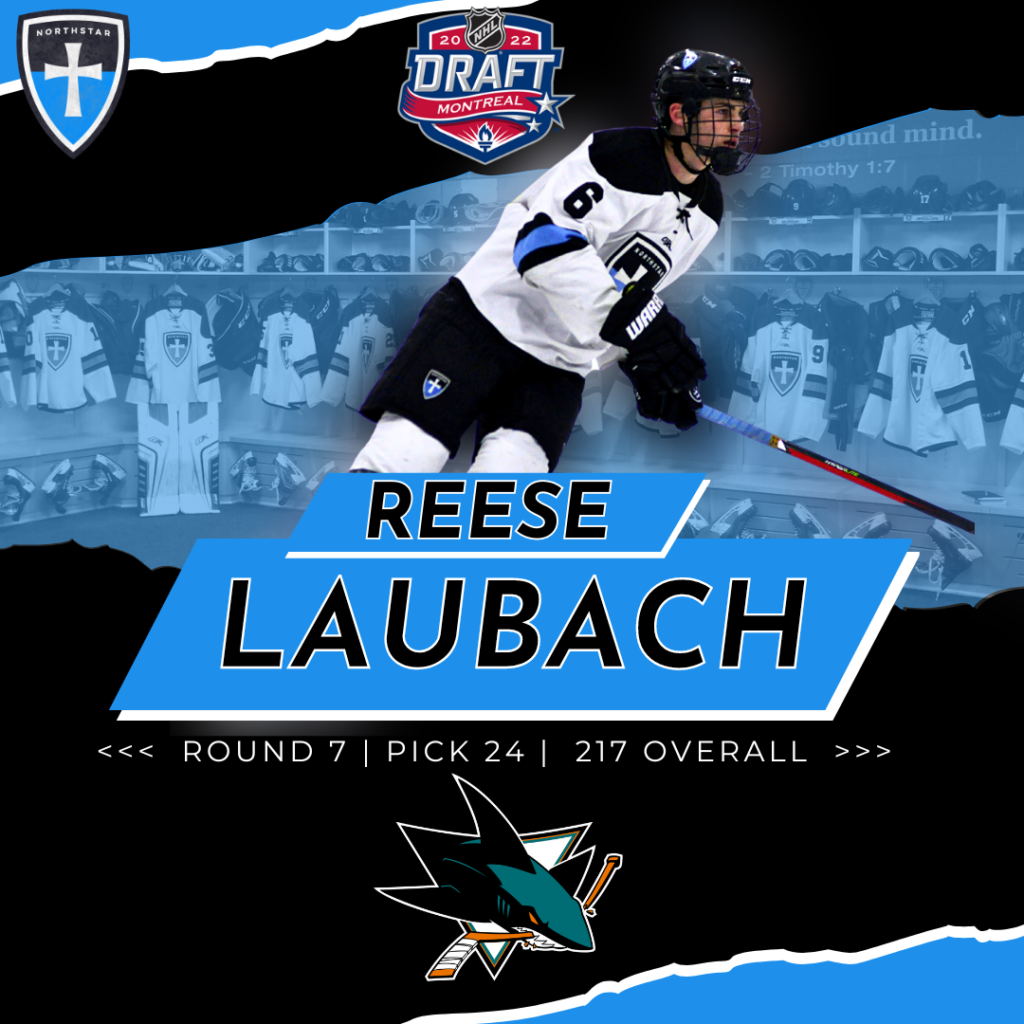 The Knights are thrilled to see the hard work and dedication pay off for these incredible Godly men and look forward to the impact they will have on their respective teams!
Alexandria, MN (July 12, 2022) 
For more information, contact: Johnny Van Atta, Director of Hockey Operations (615) 830-1113, [email protected]