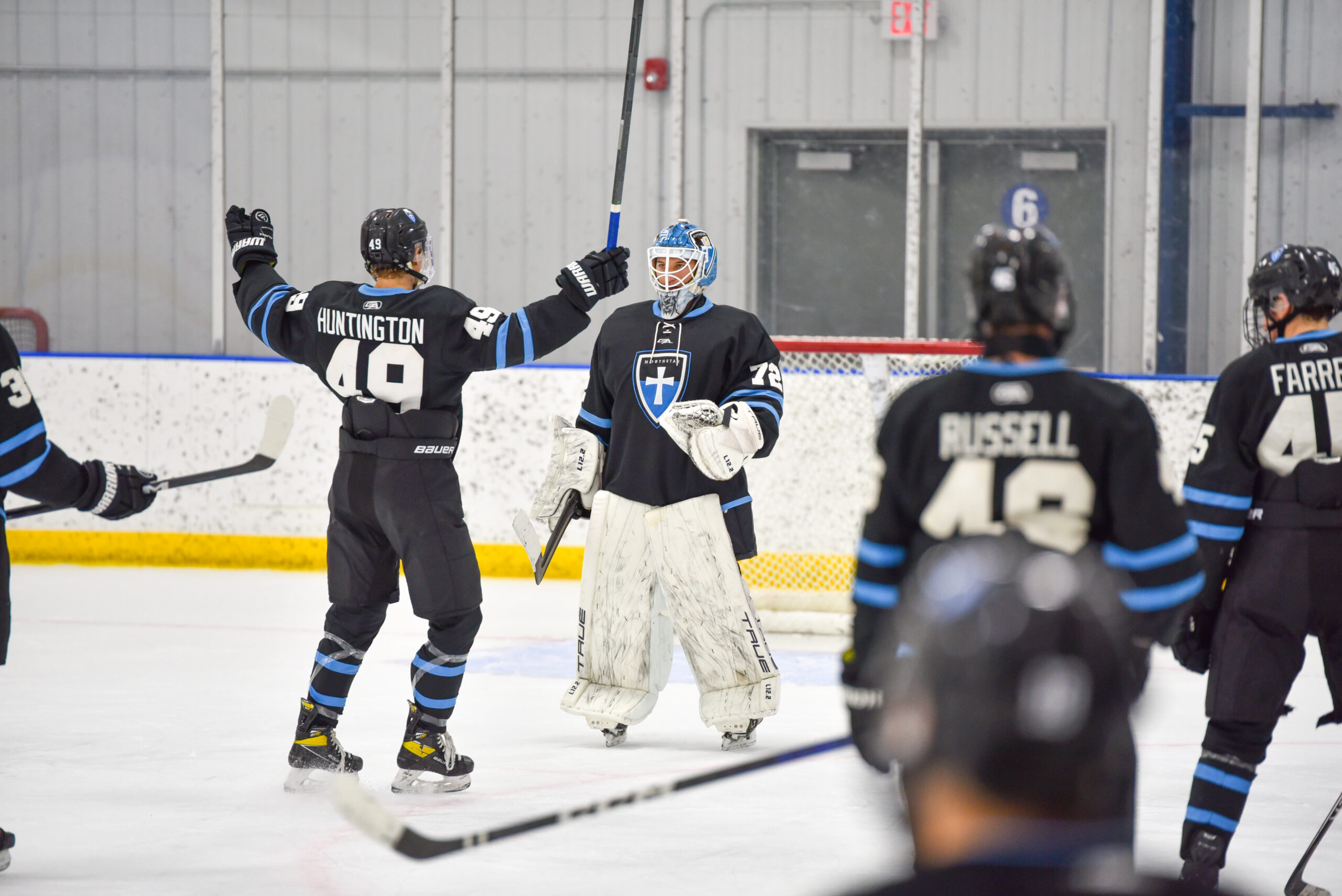 Blake Steinbring – Bulldog Photography
Alexandria, MN (Oct. 19, 2022) 
For more information, contact: Johnny Van Atta, Director of Hockey Operations (615) 830-1113, [email protected] 
The Northstar Knights 16U AAA and 18U Prep swept their opponents this weekend with the #24 ranked 16U Knights taking on the #121 ranked Oakland Jr. Grizzlies (Troy, MI) and the #2 ranked 18U Knights taking on the #73 ranked Team Minnesota.
The 16U Knights kicked the weekend off on the right foot defeating the Jr. Grizzlies 2-1. Jaxson Kaebel scored his first goal of the year and Jake Spraetz added the game deciding goal off a power play snipe from the right circle. Merik Grinaker turned away 14 of 15 shots on goal. On Saturday evening, the Knights offense exploded with 7 goals as well as pitching a shut out thanks to a 22 save performance from Brady Krey. Through 3 games, Krey has posted a SV% of .943 which ranked #7 in all of 16U AAA hockey in goaltenders who have played in less than 10 games and also holds a record of 3-0-0 with 1 shutout. "The defense has been awesome and probably the best I have ever had playing in front of me", said Krey. "I love being here and how everyone backs each other up." Scoring for the Knights were Ben Likness, Evan Leden, Jacob Peterson (2), Carter Sanderson, Jake Spraetz and Grady Stallman. Likness and Peterson had 3 point games and Bode Laylin added 4 assists. On Sunday, the Knights took down the Jr. Grizzlies for the 3rd time by a score of 2-1 with goals coming from Jacob Peterson and Michael Mathison. Stefano Carranza stopped 19 of 20 shots for the win in net. Through 13 games, Peterson has posted 9 goals and 2 assists for 11 points and is already 2 points away from surpassing his point total from last season. "I feel more comfortable and got faster over the summer," Peterson said of the improvement he has made this season. "I like how the team has bonded in such a short time."
The 18U Knights defeated Team Minnesota 8-1 on Saturday afternoon. Scoring for the Knights were Landon Dauner, Gavin Hruza, Joe Stauber, Kaleb Pitman, Caleb Elfering (2), Dawson McCann and Nate Farrell. Pitman added 3 assists for a 4 point game while Ryan Murphy added a team high 4 assists. Beck Lidén stopped 12 of 13 shots for his 6th win of the season. On Sunday, the Knights put up 8 goals again winning 8-3. Landon Dauner and Bronson Hunt scored 1 goal a piece and Gavin Hruza, Ryan Murphy and Jacob Lundeen each added 2 goals. CJ Sehlke started his first game in net for the season and stopped 16 of 19 shots. "We are playing simple and efficient right now," said Shane Burns of what the key to the team's success has been. "Our chemistry is getting better, goalies are making an impact and the boys are putting pucks in the net to help us win games," Burns added. Through 12 games this season, the 18U Knights are 11-1-0, have won 10 games in a row, are outscoring their opponents 75-22, and boast a power play percentage of 33%. 
The Knights return back home this weekend to take on the Minnesota Blades at 4:30PM (16U) and 7:00 PM (18U) on Saturday night and at 9:30AM (16U) and 12:00PM (18U) on Sunday.