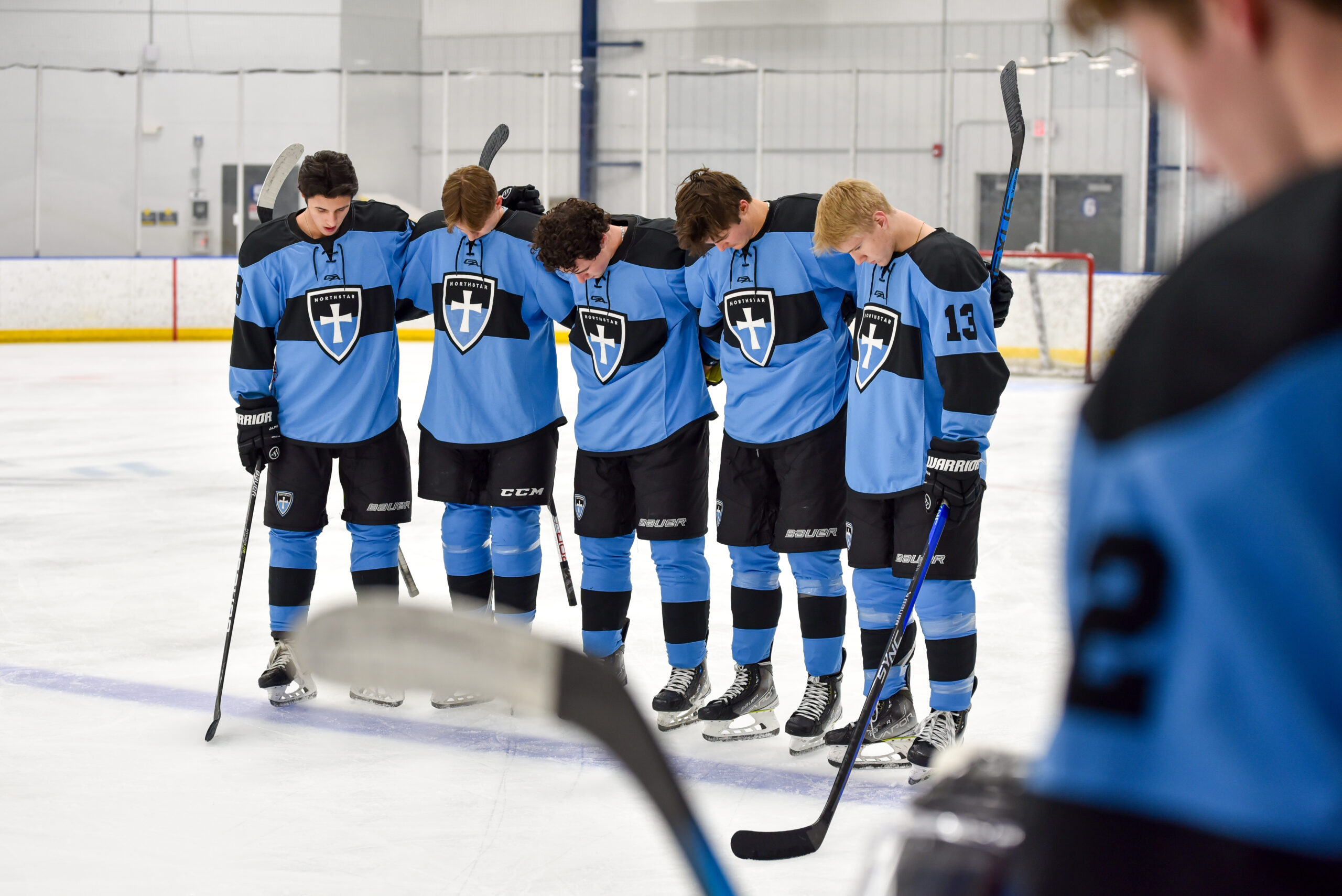 Alexandria, MN (Jan. 1, 2023) 
For more information, contact: Johnny Van Atta, Director of Hockey Operations (615) 830-1113, [email protected] 
It feels just like yesterday that the players were rolling in to "welcome weekend" back in September. Three months later, the Knights are already at the halfway mark of both their game season and their school year. The boys have a lot to be proud of looking back but are also looking forward with determination to continue growing and building off their success from the first half. 
The 18U Knights currently rank #2 in the nation with a record of 27-2 and has won 12 straight games dating back to Nov. 4. The Knights are averaging 5.45 goals per game and are only allowing 1.93 goals per game. Caleb Elfering leads the team in goals and points with 46 (21G, 26A) followed by Bronson Hunt with 42 points (15G, 27A). Hunt's 27 assists lead the team. Along with Elfering and Hunt, Dawson McCann (13G, 19A) and Ryan Murphy (11G, 20A) all have at least a point per game. Bauer Berry has been a stalwart on the Knights blueline all season and leads the defenseman in points with 26 (5G, 21A). In net, the Knights have received stellar goaltending from the trio of Noel Friedman, Beck Lidén and CJ Sehlke. Lidén has a 14-2 record to go along with a .912 SV% and 1.81 GAA. Friedman has yet to lose a game this season as his record is a perfect 11-0. He's only allowed 1.82 GAA and has a .913 SV%. Sehlke rounds out the goaltending group with a 2-0 record and a 3.00 GAA and .829 SV%.
The #17 ranked 16U Knights has won its last 12 out of 13 games dating back to Nov. 5 and has a 23-4 record, along with 2 ties headed into the new year. They are averaging 4.52 goals per game and have allowed 2.41 goals per game. Lincoln Hjelm, a recent University of Nebraska-Omaha commit, leads the team in points with 36 (14G, 22A), the latter of which is a team-high). Ben Likness is second on the team in points with 32 (18G, 14A) and Evan Leden has 30 (15G, 15A). Jacob Peterson has a team-high 18 goals to go along with 11 assists. The Knights have received strong play from their blueline in William Bisset, Lincoln Kuehne and Andrew Leung so far this season. Merik Grinaker, Brady Krey and Stefano Carranza have all carried the load in net for the Knights. Grinaker owns a 9-2 record to go with a 2.27 GAA and a .893 SV%. Krey is a perfect 7-0 and leads the goaltending trio with a 1.43 GAA and a .930 SV%. Carranza rounds out the elite goaltending group with a 7-3 record and has a .904 SV% and a 2.23 GAA. "I love our team's commitment to learning and getting better every day," said Coach Mark Abalan. "This group has come together from day one and been all about 'the team'. It's been a team first approach. I love the selflessness these guys display and the attitude they have day in and day out has really stood out for Dallas and I. The care and love they have for each other has been a driving force for us. The team told us at the very beginning that they wanted to be hard to play against and they have made that our identity through competing and hard work. We are very proud of these young men and it has been a real joy to come to the rink with them every day. We look forward to more of the same in the second half as we keep pushing each other to grow on and off the ice."
As much work as the boys are putting in on the ice, they've also been working just as hard in the classroom. The entire 18U Knights team boasts a GPA of 4.19. C.J Sehlke earned the "Academic Honor Roll" (3.0-3.49 GPA). Earning the honor of "Distinguished Honor Roll" (3.5 – 4.0 GPA or higher) are an astounding 24 student athletes: Max Evans, Nathan Huntington, Beck Lidén, Caleb Elfering, Nate Farrell, Ryan Murphy, Kaleb Pitman, Cooper Fredericks, Brady Jones, Tanner Hunt, Jake Lundeen, Luke Russell, Gavin Hruza, Joe Stauber, Bronson Hunt, Sam Kartch, Dawson McCann, Shane Burns, Brayden Berg, Bauer Berry, Noel Friedman, Landon Dauner, Colten Sell and Luke Sittler. Many of the 18U players take college level classes which gives them the chance to earn a 5.0 GPA. Of those 24 on the "Distinguished Honor Roll", Evans, Huntington and Lidén all had a perfect 5.0 GPA. Earning the "Academic Honor Roll" (3.0 – 3.49 GPA) for the 16U Knights are Jake Spraetz, Bode Laylin, Lucas Schoenborn and Lincoln Kuehne and earning the "Distinguished Honor Roll" (3.5 – 4.0 GPA of Higher) are Brady Krey, Alex Klimek, Jaxson Kaebel and Carter Sanderson, Titus Keyes, Deegan Hoffbauer, Ben Albers, Grady Stallman, Michael Mathison, Ben Likness, Andrew Leung, Evan Leden, Lincoln Hjelm, Merik Grinaker, Tyler Dahms, and Stefano Carranza. "These men have shown they care about what happens on the ice as well as what happens in the classroom", said Academic Director Chip Elfering. "We want to instill in them what it means to be God's warrior in the classroom as well.  Proverbs 22:6 says, 'Train up a child in the way he should go; even when he is old he will not depart from it.'  These men work hard and they see the fruit in their labor."
The Knights return to the ice on January 14 and 15, 2023, when they host Bishops College School. The 16U Knights will play at 4:30 PM on Saturday and 9:30 AM on Sunday. The 18U Knights will play at 7:00 PM on Saturday and 12:00 PM on Sunday. 
The Knights wish everyone a happy new year and look forward to seeing everyone in 2023!