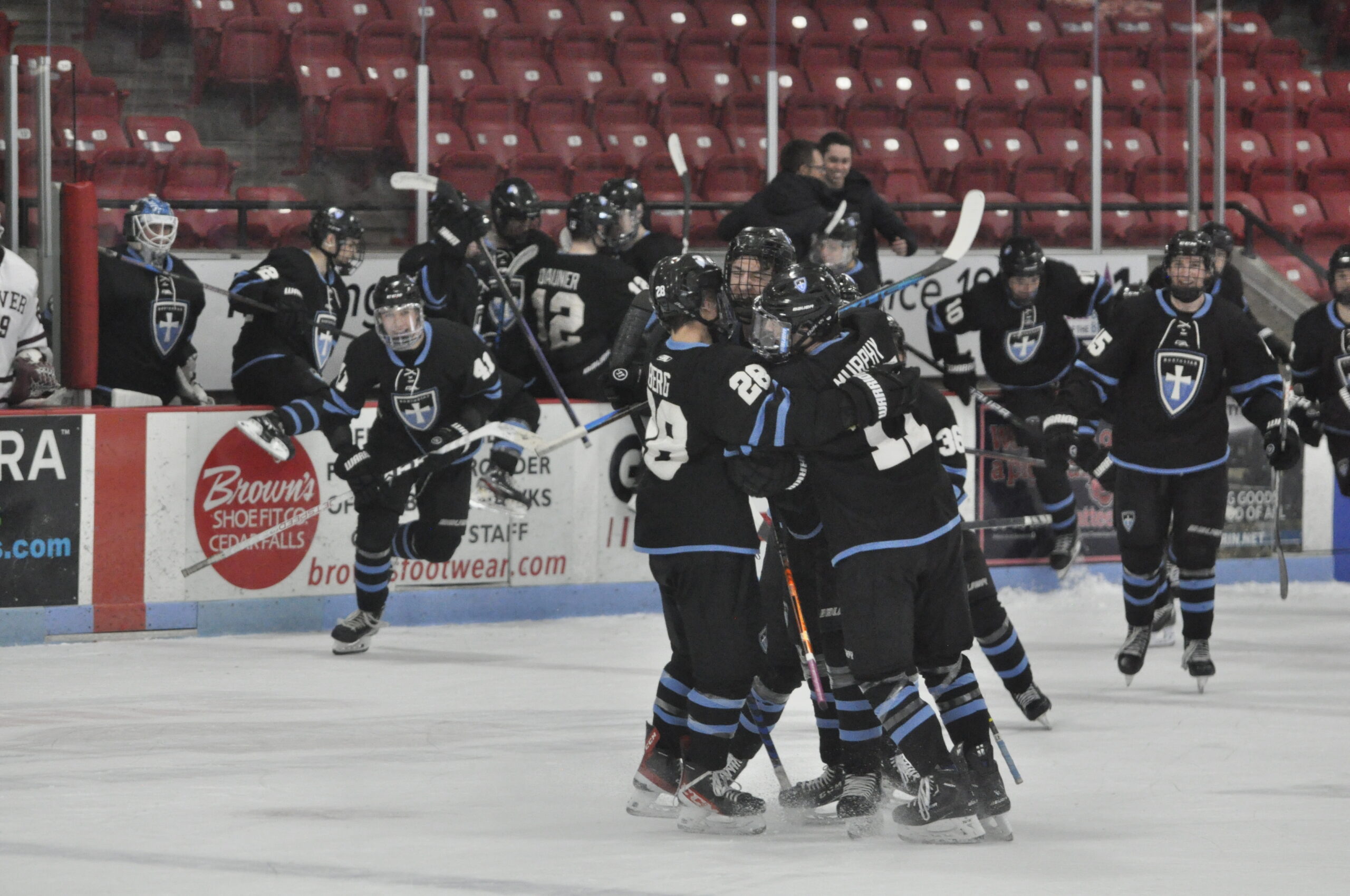 Waterloo, IA (Mar. 14, 2023) 
For more information, contact: Johnny Van Atta, Director of Hockey Operations (615) 830-1113, [email protected] 
The Northstar Knights traveled to Waterloo, Iowa over the weekend for neutral site games against top ranked Culver Academy. The #19 ranked 16U Knights went 1-1 against the #24 ranked 16U Culver and the #3 ranked 18U Knights went 2-0 against the #4 ranked 18U Culver.
On Saturday, the 16U Knights lost by a score of 5-1 with the lone goal coming from Lincoln Hjelm. Merik Grinaker made 25 saves in net. After the loss on Saturday, the team was motivated to fight back for a better performance on Sunday. The Knights did just that as they battled back with a resounding 5-3 win to split the series. Scoring for the Knights were Jacob Peterson, Lincoln Hjelm, Evan Leden, Alex Klimek, and Jaxson Kaebel. Stefano Carranza made 30 saves in net for the win. The 16U Knights hold a record of 37-12-1-3 on the season and are outscoring their opponents 4.30 – 2.53 goals per game. 
The 18U Knights earned a big 4-3 win on Saturday. After being down 3-1 early in the first period, the Knights stormed back with 3 straight goals from Kaleb Pitman, Brayden Berg and Shane Burns. Beck Liden earned the win in net with 30 saves. On Sunday, the Knights had another competitive, nail-biting game. With both teams fighting hard for a victory, the score was tied 1-1 at the end of regulation thanks to a goal from Tanner Hunt. As the game went to overtime, the Knights drew a power play where Bauer Berry seized the opportunity to fire a shot past the Culver goaltender to give the Knights a victory. With the 2 wins over the weekend, the 18U Knights now hold a season record of 45-5-2-1 and have outscored their opponents 4.91 – 1.96 goals per game. 
The Knights will stay on the road and will play in Oxford, Ohio this coming weekend with the 16U Knights taking on #6 ranked Compuware and the 18U Knights taking on #8 ranked Little Caesars.