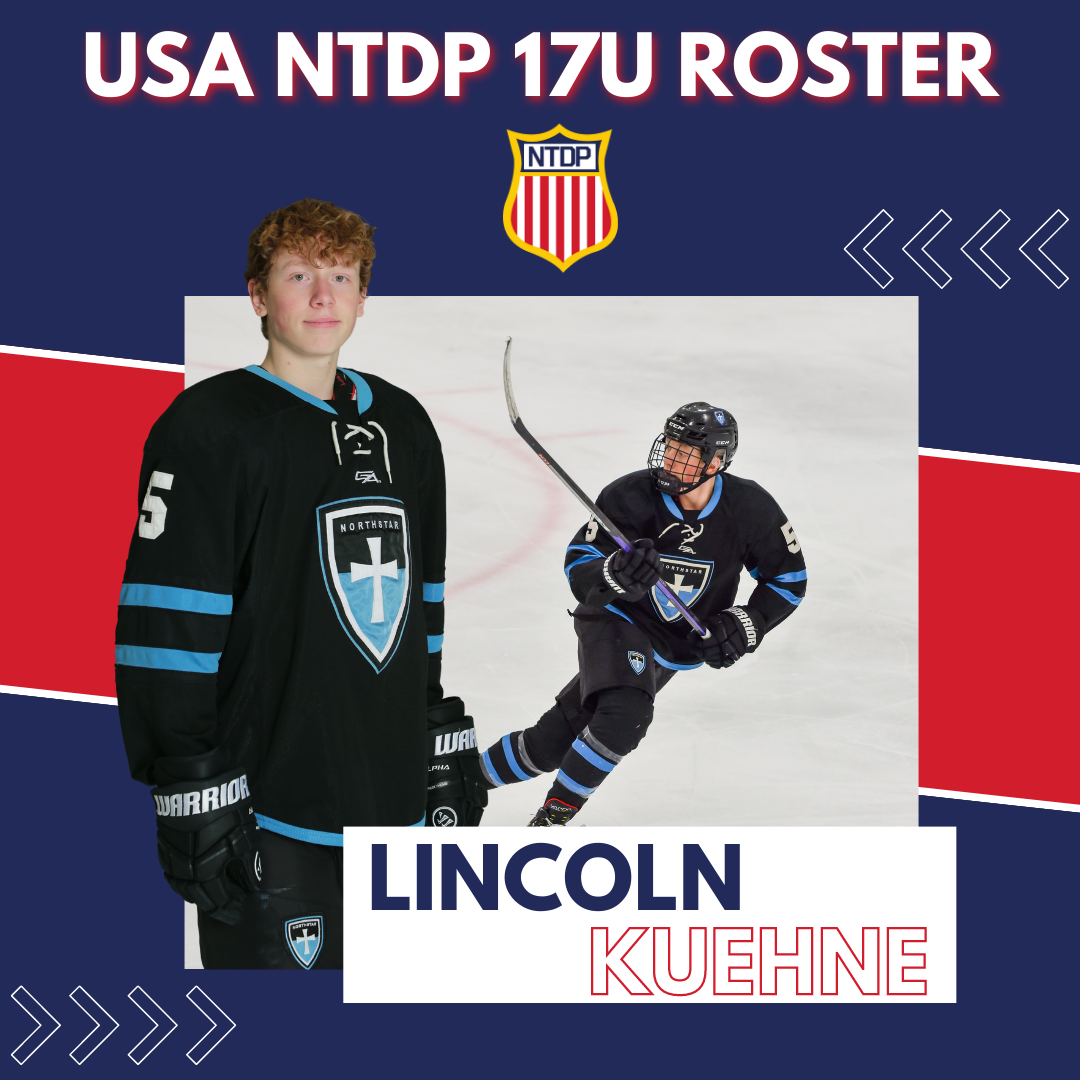 Alexandria, MN (Apr. 11, 2023) 
For more information, contact: Johnny Van Atta, Director of Hockey Operations (615) 830-1113, [email protected] 
The Northstar Knights are proud to announce that 16U Knights defenseman, Lincoln Kuehne, has been selected to the US National Team Development Program roster for the 2023-24 season. Based in Plymouth, Michigan, The NTDP is the most prestigious hockey program in the United States, taking the 24 best players from around the country and developing them to become the best American athletes in the country. Unlike other competitive athletic teams, the success of the NTDP does not gauge their success on wins and losses. Instead, they focus on the development of skills and gaining experience against older competitors. The Under-17 Team, which Kuehne will play on next season, competes in the USHL and also participates in three international events annually. According to their website, the NTDP has produced 5 first overall picks in the NHL, 90 first round NHL picks, and 666 total players who have played in the NHL. 
Originally from Fargo, ND, Kuehne came to Northstar this season following his time with Team North Dakota where he was one of their top players. This past season, Kuehne put up 10 goals and 18 assists for 28 points in 52 games as a defenseman for the 16U Knights. "Lincoln has such a love for the game and he's committed to doing whatever it takes to get better," said 16U Coach Dallas Steward in an interview with The Rink Live. "The biggest thing with Lincoln is his skating ability, with and without the puck, and he wants to be involved in the offense. But at the same time, he's very competitive defensively. When he plays simple, he's really effective and efficient, and he's a tough kid to play against. He's smart defensively and he's got skill and a big shot on the offensive side of the game. That's the part of his game that I think the NTDP would desire to have."
"I think Northstar really helped my growth with the wonderful coaching staff they have here," said Kuehne. "They have cared about my development every day and have taught me how to be a great man and a good person off the ice too. I am excited to play against older guys next year and feel ready to take the next step in my development."
The Knights are excited to watch Kuehne excel at the next level and use his God-given gifts to impact the hockey world for many years to come!