Alexandria, MN (Apr. 17, 2023) 
For more information, contact: Johnny Van Atta, Director of Hockey Operations (615) 830-1113, [email protected] 
The Northstar Knights are proud to announce that 18U Prep team forward's Kaleb Pitman and Colten Sell have signed tenders in the NCDC. Pitman signed with the Jersey Hitmen and Sell signed with the Wilkes Barre-Scranton Knights. The NCDC (National Collegiate Development Conference) is the top tier and the only tuition-free league in the USPHL. So far in the 2022-23 season, the NCDC has produced 18 NCAA D1 commits. 
Pitman, a Circle Pines, MN native is a 2 year veteran with the 18U Knights team. Last season, the forward put up 30 points (15G, 15A) in 52 games played. This year, Pitman continued to refine his game and improved his point total to 41(19G, 22A) in 44 games. His 0.93 points per game ranked 3rd on the Knights behind Caleb Elfering and Bronson Hunt. Additionally, Pitman tied for 3rd on the team with 90% 5v5 point percentage, meaning he was a strong contributor to his team at even strength. Pitman was also the most disciplined player on the 18U Knights team this season in Penalty Minute terms as he only took 3 minor penalties the whole season. Pitman will look to add to an already strong Jersey Hitmen team next season as they won back-to-back USPHL Championships in 2020-21 and 2021-22. "I am super thankful for this opportunity and I'm super excited to be a part of the Hitmen organization", said Pitman.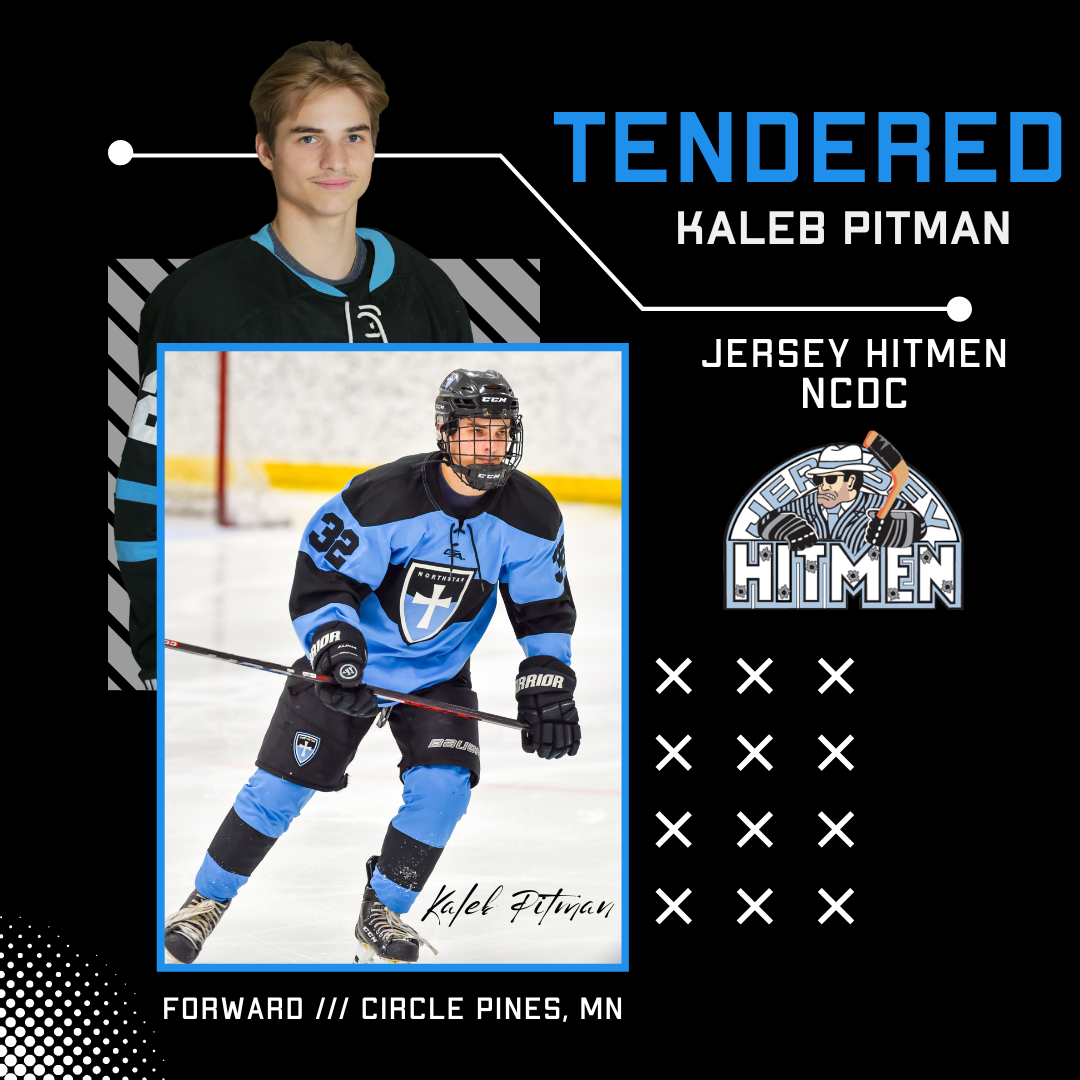 Sell came to Northstar in 2021 from Woodland Park, CO. He is also a 2 year vet with the Knights, playing on the 16U team last season and on the 18U team this season. Last season, Sell put up 16 points (8G, 8A) in 50 games. This season, Sell improved to 19 points (7G, 12A) in 42 games played. For those who are regular attendees at the Knights games know that Sell is a warrior on the ice. Although hits and drawn penalties are not tracked at this level, Sell would more than likely be at the top of both categories. After being sidelined from an injury that caused him to miss the final 3 games last season and the first 7 games of this season, Sell exploded for a hat trick in his first game back against the Winnipeg Wild at the Fargo Force Showcase. The tenacity and perseverance Sell has will be a welcomed addition to the WB/S Knights team who just completed their first season in the NCDC.
With Pitman and Sell signing tenders, the 18U Knights now have 13 players signed or affiliated with Junior teams: Sam Kartch (Utah Outliers), Landon Dauner (Austin Bruins), Colten Sell (WB/S Knights), Jake Lundeen (Notre Dame Hounds), Cooper Fredericks (Notre Dame Hounds), Brayden Berg (Oklahoma Warriors), Kaleb Pitman, (Jersey Hitmen), Caleb Elfering (Wenatchee Wild), Dawson McCann (Steinbach Pistons), Nathan Huntington (Utah Outliers), Bauer Berry (Muskegon Lumberjacks), Brady Jones (Utah Outliers), and Beck Lidén (Steinbach Pistons). 
Stay tuned for the next press release as we will be starting a series of Northstar Knights Alumni Spotlights!