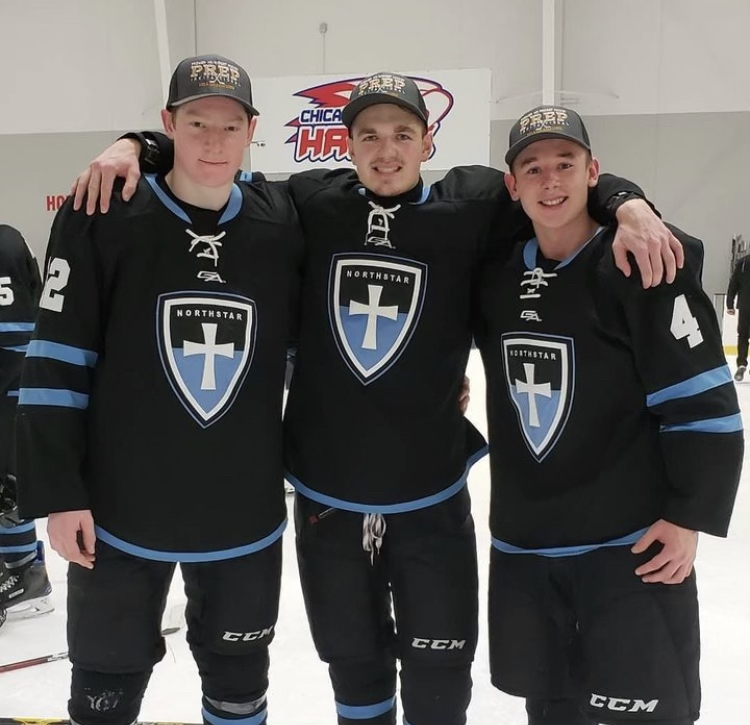 Name: Logan Johnson
Years Played at Northstar: 2018-19
Current Team: Liberty University D2
Our next alumni spotlight features an inaugural member of the Northstar Knights Program, Logan Johnson. Logan came to Northstar from Pine City, Minnesota where he developed into a key defenseman for the Knights. Upon graduating from the Knights program, Johnson made junior stops with the Neepawa Natives of the MJHL and the Thief River Falls Norskies of the SIJHL before sticking with the Utah Outliers in the USPHL. This past season was his first collegiate season playing for Liberty University's Division II team. Last summer, Johnson returned back to Alexandria where he interned with FCA Hockey and was able to disciple many young hockey players throughout the country. This is a guy who loves the Lord with all his heart and reflects that with his interactions with others. We hope you enjoy this update on what God is doing in his life!
What are you up to at the moment? 
I'm at liberty right now and we had a great past season. I think we finished somewhere around 25-5-3 I believe so it was an unreal season. We had a great group of guys here and the culture that we have is just a super close team. I'm currently studying finance, which is my major and I'm getting a minor in accounting. I am wrapping up my first year here and I'm really enjoying Liberty. It's an absolutely amazing campus with amazing people and just an amazing place in general. Virginia weather is beautiful so whenever we can we get out on the golf course, we will do that and yea, just enjoying life.
What led you to Northstar?
Yeah so that's kind of a crazy story. I was playing in the "Great 8HP" which is kind of the end of the season for Minnesota high school hockey. They make teams out of all the sections in the state and I made this team so it's kind of like an all-section team which is super awesome. I don't know if I should have been there but it was cool to be on the team for sure. That was my junior year and I remember meeting this guy after the last game and he invited me out to Chowder Cup and Boston, which really I had no idea what it was. I spent my summers out in Maine and Vermont during that time just playing hockey and training with a few coaches out there which was super fun but then I went down to the Chowder Cup and I think one of the first coaches I met was Rick and then right after that was coach Jackman and both of them were awesome. I know Jackman from the beginning liked my style of play but I was definitely a little bit of a hot head. I think the big thing that helped me was just Jackman vouching for me and that's how I kind of even got the opportunity to play. I then made the decision of leaving high school my senior year and chose to come to Northstar not knowing much about it but it definitely was a huge blessing and right decision for sure.
How did Northstar impact your spiritual life and how have you been able to carry that on?
Northstar absolutely changed everything for me. Prior to coming to Northstar, I grew up Lutheran and then moved towns and I went to evangelical free church which is where I kind of got introduced to the Lord but definitely not on a super deep level – just a little bit here and there. Coming to Northstar was kind of a big eye-opening experience. I remember in the beginning just not being, I would say not being fully against it, but definitely fighting it. I was fighting those convictions and everything. I was kind of confused and in a place of spiritual war, not knowing where I was or who I was. I was this hard nosed guy who didn't really take anything from anybody and just seeing that change in my life over Northstar was insane and just having Rick, JO and Tim pouring into me and loosening that hardness I had and turning me into a man of God. I became a guy who loves everybody, who is super peaceful and a lot more level headed and just all those great characteristics of a Godly man. Now, I try to talk to those guys that are a little more angry than everybody else and just understand where they're at in their head being able to loosen them up and slowly break them down to just realize like, "hey you know we're we're all men of God here, we all love you equally and He loves us the most". Bringing that to the table with a lot of guys that come in from different places and all walks of life is pretty cool.
How did Northstar grow your skill development in hockey?
At the start, I don't think I had many people vouching for me. I know Shannon took me in and just absolutely loved me and adored me which was unreal and Jackman loved how hard-nosed I played, but I know JO probably didn't like me in the beginning just with how I was. My play was not on the same level as a lot of guys coming from where I came from in a small town in Minnesota. There was not a lot of hockey coaching up to that point, so coming to Northstar was especially, for me, a big eye opener. Every day I was being challenged immensely and just getting better and better and you could see it as the year went on. Towards the end of the year I was the first D-pair with my partner, Luke Anderson, and we were tearing it up. I mean, I was having some of the best games I've ever had – Just great skills, shot, ice vision, and positioning. Everything was just so much better than when I started.
What were some of the hardships of Junior hockey and some lessons you learned there? 
Junior hockey is definitely it's not a not a very faith-based place. There's not a lot of God in there and you're probably, depending on where you go, you might be the only believer, which is crazy. I was lucky enough to have a close friend of mine who's now here at liberty who's a very strong believer. You definitely are going against the grain being a believer in junior hockey. There's a lot of craziness and you can get caught up in stuff too, I mean it's definitely not just smooth sailing through it. Being a believer, there's tons of turmoil and spiritual warfare going on every day and same with the coaching and just the culture of junior hockey. You can be traded in an instant and sometimes you don't know why and sometimes you do know. Trades in junior hockey is common so just being super sound with the Lord and not having your identity solely in hockey is so key to going through junior hockey, because there's gonna be so many ups and downs in anything you're doing, especially in junior hockey. Being grounded in your faith will kind of level out all those ups and downs and the roller coaster of what junior hockey is.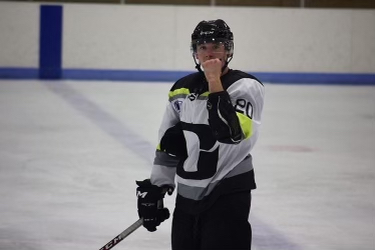 Any advice to give to the current Northstar players or future knights? 
Northstar is one of its own. There's no other place like Northstar on this earth right now. It's a sanctuary to breed hockey players and to breed Christians and young men as well. I would encourage the players to enjoy every single moment and listen to the guys above you because they're pouring into you. You want to be a sponge, especially in that environment because you're not going to get something like that again, just to be able to be around those guys every day. You definitely want to take everything to heart and don't take anything for granted being there. Being at Northstar was probably the best year of my life. I'd say the friendships I've made and the relationships and the brotherhood. You're a part of something so special when you come through there and it's gonna be a legacy from here on out of just great men and great hockey players and that's what I think Northstar will be known for.
Favorite scripture verse or one that you feel is meaningful to you right now?
I definitely have a favorite verse. It's John 3:30 and the translations have kind of changed but mine is the NRSV version which is, "he must increase but I must decrease." I try to walk that way in my life and everything I do, I try to bring God into absolutely everything. If you make him greater than anything else in your life and the problems that you have and the turmoil in your life just it's way less and it takes all that weight off when you put him at the center of everything. 
What's next for you?
I guess it's kind of up in the air. I mean, Lord willing we'll see what happens but for sure hockey's definitely a big part of my life being in college now and 22 years old it's a little different. I enjoy hockey and I train super hard everyday still and if there's an option to go play maybe semi-pro one day, that would be fun. I definitely would do it but the big goal right now is to finish school, get good grades, get my major and get that graduation certificate and go on from there and see where the Lord takes me. In the last few years I am learning that he can take me in any direction at any time and just being sound with them and knowing that wherever he takes me it's going to be fun and I'm going to enjoy it and make the most of everything. Right now, I am enjoying school while I'm in it and we'll see where it goes from there.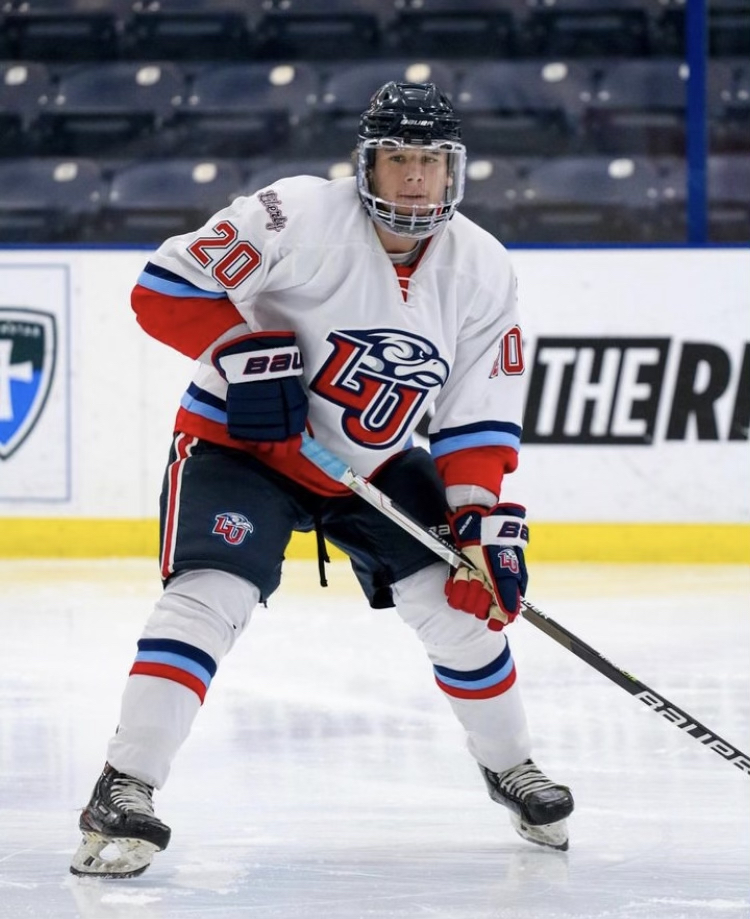 Keep following along for more Knights Alumni Spotlights that will be released every Monday and Friday!