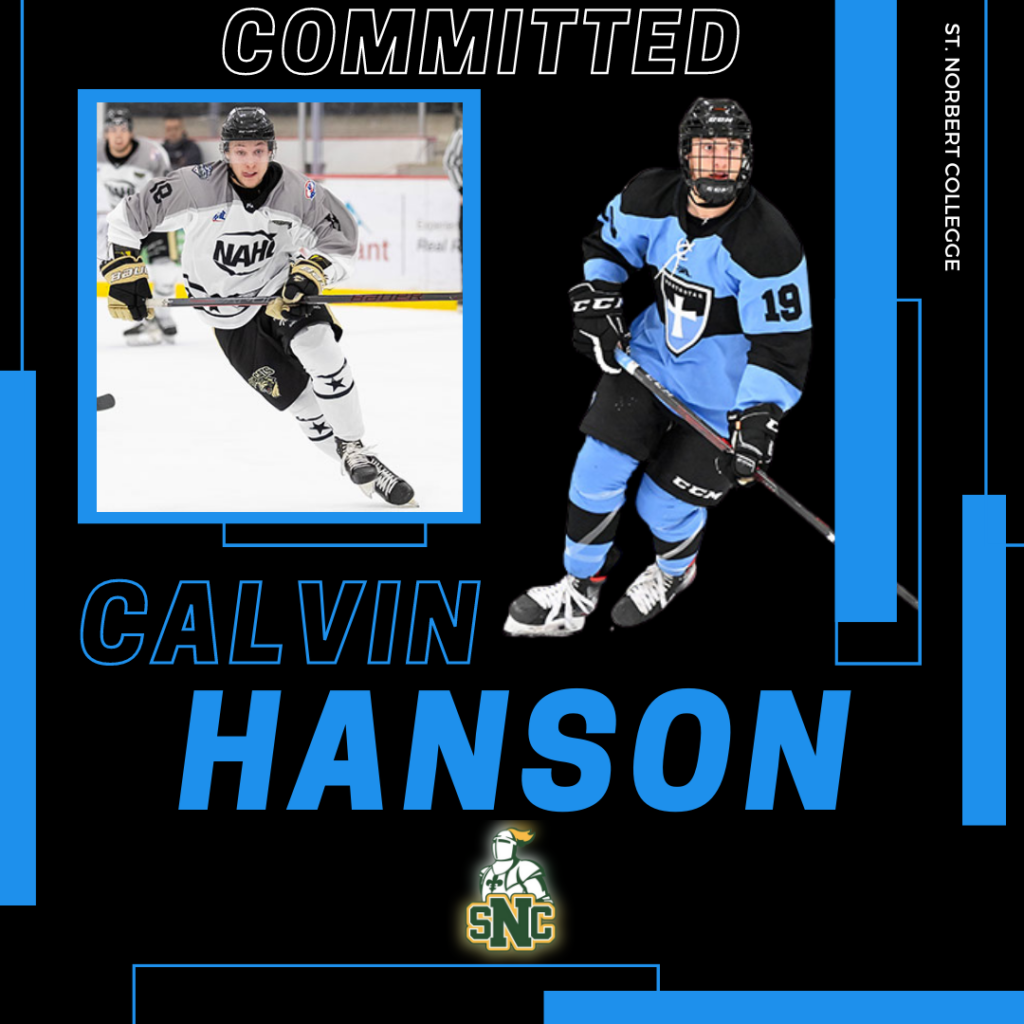 Alexandria, MN (July. 18, 2023)
For more information, contact: Johnny Van Atta, Director of Hockey Operations (615) 830-1113, [email protected]
Northstar Knights alumni, Calvin Hanson, has committed to St. Norbert College in De Pere, WI. St. Norbert recently won the NCAA III Championship in 2018 and Hanson will be looking to add to an already strong program. "Commiting to St. Norbert is super exciting for me to have the opportunity to go play college hockey and to learn more and meet new people", Hanson said about his commitment.
Hanson played for the 18U Prep team from 2020-21 after completing 4 years at Kittson High School where he racked up 142 points (78G, 64A) in 89 games played. In his lone season with the Knights, the Hallock, MN native ranked 5th on the Knights in scoring contributing 44 points (17G, 27A) in 43 games and helping his team win the 2020-21 NAPHL Championship. "Cal was tough as nails and a Northstar Knight warrior", said 18U Prep Coach, Rylan Galiardi. "Off the ice he was more of a quiet leader but when he spoke up you knew it was important and came from the heart."
After his time with the Knights, Hanson suited up for the Bismarck Bobcats of the NAHL where he put up 80 points (33G, 47A) in 111 games played from 2021-2023. "We are so proud of him and expect him to play a pivotal role immediately with St Norbert", said Galiardi. As he transitions from junior hockey to collegiate hockey, Hanson has turned to scripture to guide his next steps."A verse that I like when I think about my future is Proverbs 19:20-21", said Hanson. "It says, "listen to advice and accept discipline, and at the end you will be counted among the wise. Many are the plans in a human's heart, but it's the Lord's purpose that prevails.""
The Knights are excited to follow Hanson's next step in his hockey career and wish him the best of luck at St. Norbert College. Stay tuned for more college commitments from Knights alumni!