Alexandria, MN (July. 26, 2023) 
For more information, contact: Johnny Van Atta, Director of Hockey Operations (615) 830-1113, [email protected] 
Northstar Knights alumni, Joe Westlund (Alexandria, MN) and Luke Anderson (St. Cloud, MN), have committed to NCAA III Bethel University. Bethel University is a Christian college located in Arden Hills, MN and the hockey program is coached by a great man of faith and hockey mind, Chris McKelvie. Westlund and Anderson join a strong 2023 recruiting class for the Bethel Royals.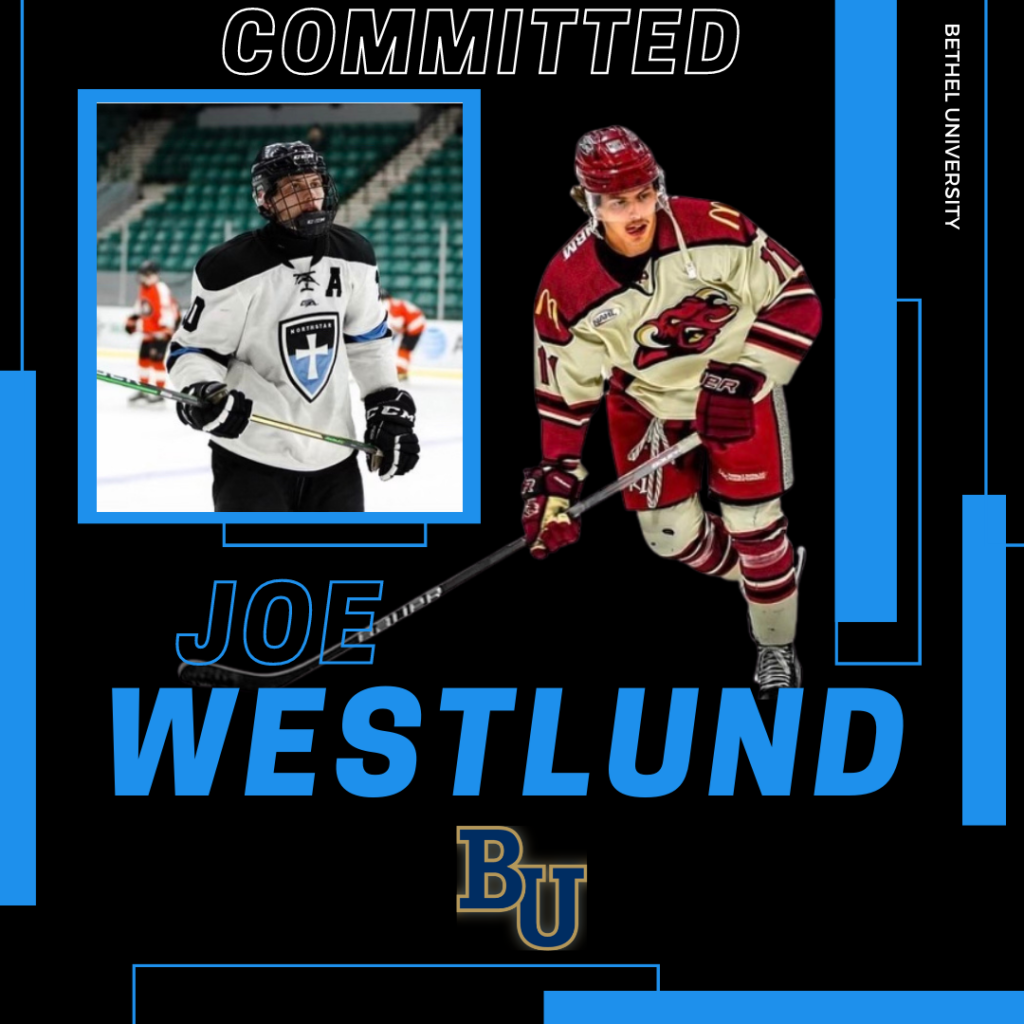 Westlund came to Northstar in 2020 following 3 productive seasons at Alexandria Area High School where he totaled 46 points (22G, 24A) in 70 games played. In the 2020-21 season with the 18U Knights, Westlund suited up for 42 games played and scored 41 points (14G, 27A) en route to helping his team win the NAPHL Championship. Upon graduating from Northstar, Westlund signed with the Minot Minotauros of the NAHL where he would play from 2021-2023. Overall, Westlund skated in 112 games and recorded 31 points (9G, 22A) to go along with 171 Penalty Minutes. "It means a lot to commit to such an amazing school," Westlund said. "Bethel University will not only provide an excellent education and allow me to continue my hockey career, but is a school that will pour into me as a man and help me grow in my faith journey!" 
The Knights look forward to watching Westlund continue to make an impact moving forward in his hockey career. "Joe Westlund is all heart," said 18U Prep Head Coach, Rylan Galiardi. "A leader, highly competitive and brought real care to his every second at Northstar. I am excited that he will bring that character to a place like Bethel, where Coach Mckelvie loves his players and has a great culture."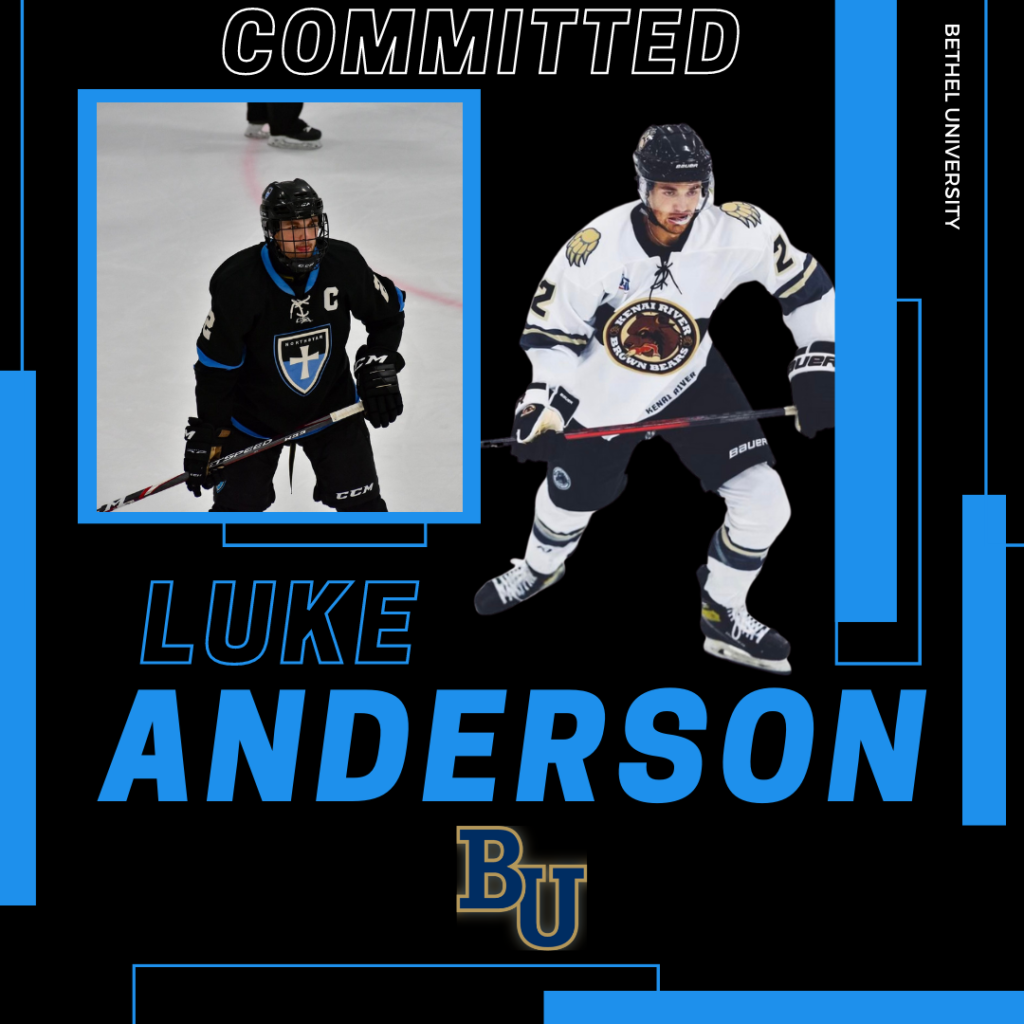 Anderson joined the inaugural Knights team in 2018 from St. Cloud Cathedral High School. In 55 games played in the 2018-19 season, the defenseman scored 42 points (13G, 29A) which ranked 2nd among the Knights defensemen. In the 2019-20 season Anderson scored 29 points (10G, 19A) in 54 games played where he earned an invite to the NAPHL All Star game. Following his time at Northstar, Anderson played the 2020-21 season with the Minnesota Wilderness where he scored 2 points (0G, 2A) in 26 games. The following season, Anderson signed with the Kenai River Brown Bears where he quickly became a lockdown player on their blueline from 2021-2023, totaling 108 games played while chipping in with 25 points (1G, 24A). "I'm super excited to join the bethel community," said Anderson. "Getting to meet some of the guys and go on campus at the end of the year made it clear that Bethel is a special place with even better people. I can't wait to get there and be part of such a great culture for the next 4 years." Anderson received high praise from former 18U Prep Coach, John Olver. "I am thrilled, but not at all surprised, to see Luke Anderson achieve his goal of becoming a NCAA College Hockey athlete," said Olver. "From the moment Luke stepped foot onto our campus at Northstar Christian Academy we knew that he was a very special young man that was destined to succeed. He was mature beyond his years and strongly committed to his faith, to his family, and to achieving academic and athletic excellence. Bethel University is gaining a tremendous hockey player and teammate, but more importantly, they are gaining a Godly man who possesses high character, integrity and strong Christian values."
Westlund and Anderson will join fellow Knights alumni, KJ Hjelm, at Bethel next season and now join a prestigious list of 16 other Knights alumni who are committed to or playing NCAA I or NCAA III College Hockey. That list includes KJ Hjelm (Bethel University), Calvin Hanson (St. Norbert College), Jeremy McDonald (Framingham State), Tyler Ryder (University of Wisconsin-Superior), Joey Dosan (Army), Cody Croal and Ben Strinden (University of North Dakota), Reese Laubach (Penn State University), Jacob Napier (Western Michigan), Jens Richards (Vermont), Austin Moline (Northern Michigan), Jakob Stender (Minnesota State), Anthony Menghini (University of Minnesota Duluth), Kade Peterson (Long Island University), Talon Sigurdson (Clarkson University) and Lincoln Hjelm (University of Nebraska-Omaha).