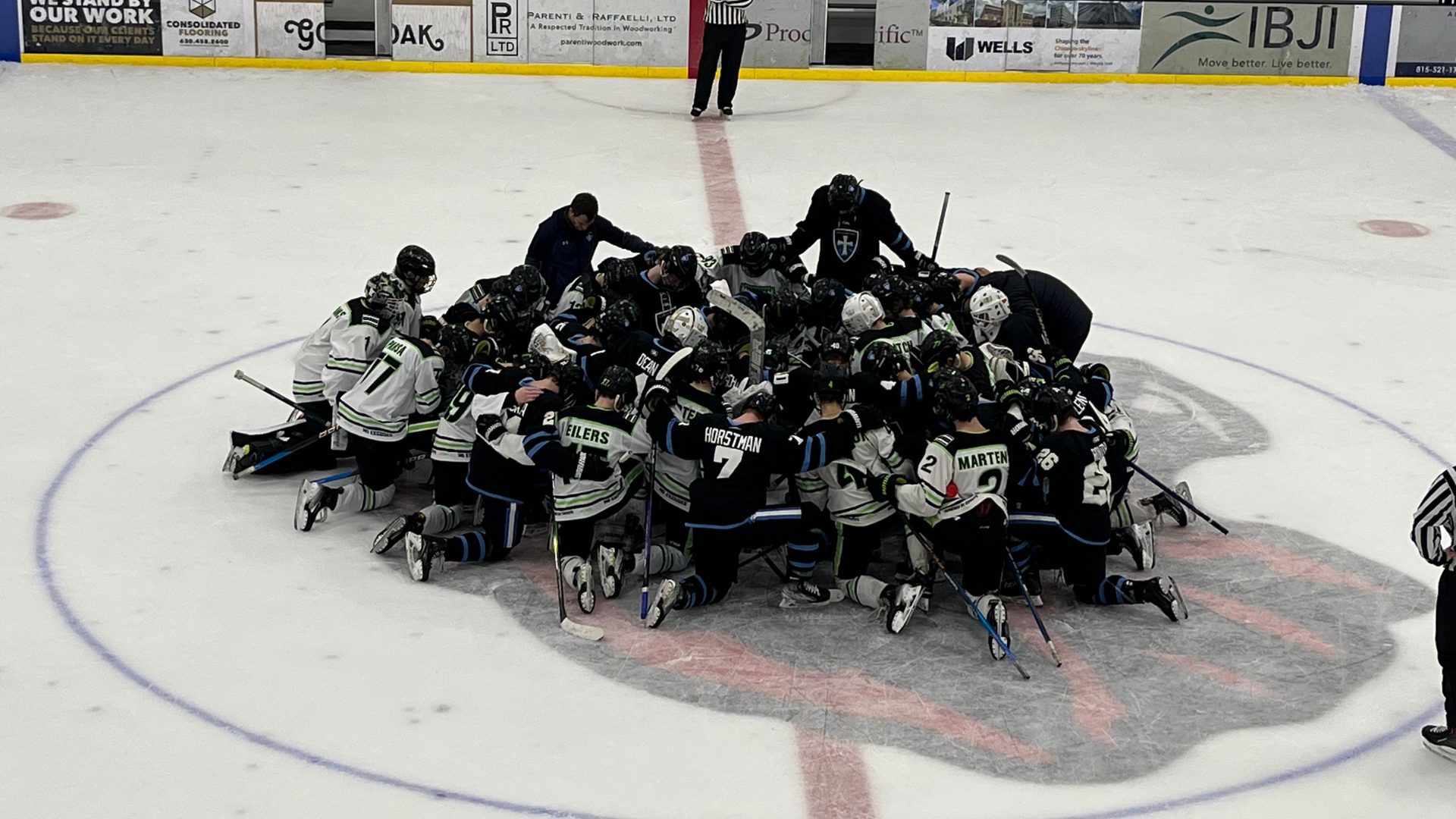 Alexandria, MN (Nov. 2, 2023) 
For more information, contact: Johnny Van Atta, Director of Hockey Operations (615) 830-1113, [email protected] 
The Northstar Knights 16U AAA and 18U Prep teams close out the month of October with plenty to be proud of and an eagerness to build on their success. The Knights began the month with a trip to Fargo, ND from October 6-8 for the Fargo Force showcase and followed that up with a strong home stand against the Minnesota Select Development Program from October 14-15. The Knights then traveled to Mt. Prospect, IL from October 20-22 for the Chicago Reapers showcase where the team's played arguably their best stretch of hockey this season. "The Chicago weekend was a big step of growth for our group", said 16U coach, Mark Abalan. "We played 9 of our hardest working periods of the year against our toughest competition to date. I loved our commitment to the team and commitment to compete from our guys. Winning requires consistency, focus and details and we are starting to make these our team identity."
The #12 ranked 16U Knights went 7-1-2 during the month of october, earning wins against #54 Minnesota Blades, #96 Colorado Thunderbirds, #13 Chicago Reapers, #17 Minnesota SDP, #18 Compuware, and #11 Chicago Mission. During this stretch, the team averaged 3.30 goals per game while only surrendering 1.70 goals against per game. The team also outshot their opponents by an average of 13 shots each game. Most impressive of the team's performance was the special teams as their power play operated at 21% and the penalty kill with a perfect 100%. At forward, Hunter Rudolph and Jaxson Kaebel led the team in points with 8, followed by Sam Horstman and Hudson Routh with 7. On the blueline, Bode Laylin led the team with 10 points (3G, 7A) followed by Zaide Penner (0G, 7A) and Alex Schlafman (0G, 4A). The Knights goaltenders were stellar as Christopher Dean went 3-0-2 with 1 shutout, .946 SV% and 1.00 GAA. Gavin Erickson posted a record of 4-0-1 with 1 shutout and .934 SV% 1.80 GAA. 
The #22 ranked 18U Knights went 9-1-0 over the last month and ride a 9 game win streak headed into the Knights Showcase this coming weekend. After falling to #26 ranked Dallas Stars Elite in the opening game of the Fargo Force Showcase, the Knights have taken down #46 Chicago Fury, #15 Chicago Reapers, #39 Phoenix Jr. Coyotes, #85 Minnesota SDP, #55 Windy City Storm, #32 Chicago Mission and #34 Minnesota Lakers. The Knights offense exploded for 4.70 goals per game while the defense and goaltending only allowed 2 goals against per game. "Excited for our group to get rewarded with on-ice success after the foundation that has been built their first two months",18U Prep Head Coach, Rylan Galiardi said. "With their involvement in the community, focus in chapel and discipleship, work in the classroom, training in the gym and skating twice a day, we have seen these young men grow immensely so far in their discipline and character."
Leading the charge on offense for the Knights was Gavin Hruza with 15 points (11G, 4A). Four other forwards produced at least a point per game in Ryan Murphy (3G, 10A), Jake Spraetz (6G, 7A), Michael Mathison (5G, 7A) and Bookie Warshaw (6G, 4A). On defense, Dylan McCann and William Bisset led with 6 points a piece (1G, 5A), followed by Hunter Friedrich with 5 (0G, 5A). Andrew Leung, Darik Olson, Gage Martell and Carson Wendorff also had a strong month of october, helping limit the goaltenders to less that 25 shots per game. In net, Trenton Carr went 5-0 with a .912 SV% and a 2.40 GAA. After playing in the loss to the Dallas Jr. Stars in Fargo, Trevor Torres has slammed the door shut. The Long Beach, CA native has won 4 straight games, 3 of which have been shutouts while posting a SV% of .987 and a 0.25 GAA. 
The Knights return to action with a big weekend ahead as they host the Knights Showcase from Thursday through Sunday, playing teams from Canada, Iowa and Maryland.