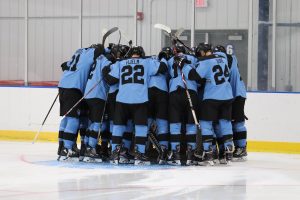 The Northstar Knights continued their fantastic start to the season with another weekend sweep. The Knights traveled down to Omaha, Nebraska for the Lancer showcase and emerged 4-0 on the weekend.
Friday's game pitted the Knights against the Milwaukee Jr. Admirals, who they had previously defeated this season. The Knights continued that trend with a 3-2 victory. Talon Sigurdson potted two goals for the Knights, and defenseman Nathan Cox got his first goal as a Knight late in the second period. The Knights also killed a full two minute five on three in the third period to stave off an Admirals comeback in the win. Collin Soderholm secured the victory for the Knights, stopping 23 out of 25 shots.
Saturday's first game of the day against Shattuck St. Mary's yielded a 4-0 win for the Knights. Camdyn Barber played stellar in net, stopping all 12 shots he faced for his fourth shutout of the season. Jakob Stender got the scoring started with a deflection goal early in the first period, and fellow defenseman Tyler Ryder scored on the power play to extend the lead to two. Ben Oakland and Truett Olson both scored in the second to round out the scoring for the Knights.
Saturday night had the Knights heading to Fremont, NE, to take on the Colorado Jr. Tigers. Anthony Menghini opened the scoring early in the first, deflecting a Chad Cousineau point shot for a 1-0 Knights lead. Colorado evened the scoring up in the third, but Brody Lucas capitalized on a penalty shot to put the Knights back in front. Colorado then scored in the final minute to tie it at two, but it was Lucas' effort in overtime on a wraparound attempt that led to a Luke Anderson game winning goal – Knights win, 3-2. Soderholm stopped 22 of 24 shots in the victory.
Sunday's matinee was a highly contested battle against the St. Louis AAA Blues. Sigurdson got the Knights on the board early with a goal on a Ben Strinden shot. After a scoreless second, St. Louis scored midway through the third on a point shot to knot the score at one to force the game to overtime. Strinden played overtime hero, putting a shot past the St. Louis goaltender for a Knights' win. Barber took the win in net with 15 saves on 16 shots.
The Knights are back at home this weekend, kicking off a month of November in which four of their six games are at home. The Knights will face off against the Des Moines Jr. Buccaneers at 7 p.m. on Saturday, Nov. 2 and 12 p.m. Sunday, Nov. 3.