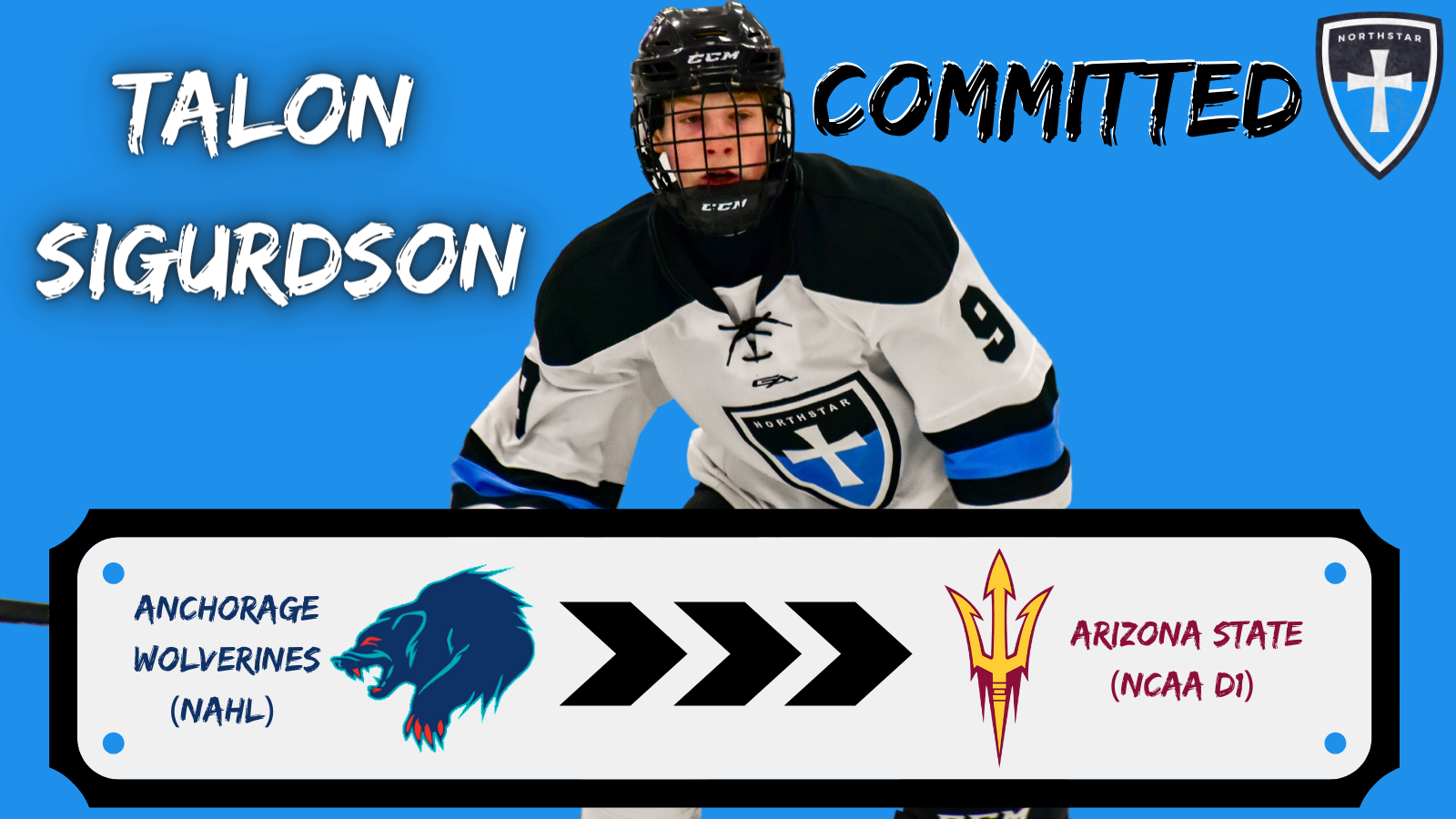 Northstar Knights Alumni, Talon Sigurdson, has committed to Arizona State University.

The Minnesota native played for the Knights from 2018-2020 and accounted for 93 points in 108 games played. Upon his graduation from Northstar, Sigurdson split time with the Twin City Thunder's NCDC and USPHL teams.
This summer, Sigurdson got a try-out with the Anchorage Wolverines of the NAHL just two weeks before their training camp. His season has quickly taken off for the 6'2 180 lb forward as he notched a hat trick in the Wolverine's season opener and then again on October 2nd.

Sigurdson is currently the leading goal scorer in the NAHL with 23 goals in just 26 games played. "I watched Talon play at the RCC in 2017 and saw a player who was undersized but who had extremely high hockey IQ and was tenacious in how he played the game," said Northstar Director, Rick Randazzo. "His growth as a Knight both on and off the ice was incredible and we all knew he would grow into a special player. His perseverance during the tough times has made him stronger as a player and we are excited to watch him play division 1 hockey at Arizona State".

Arizona State currently has a record of 9-9 on the season and is an exciting up-and-coming program that will feature a brand new $115-Million, 5,000 seat stadium in Tempe. "I'm super excited to be able to continue my hockey journey at ASU", said Sigurson. "It's a dream come true to be able to have the chance to play Division 1 hockey at such a great school."

Sigurdson becomes the 5th Knights player to commit to an NCAA Division 1 Hockey program joining the likes of Ben Strinden, Reese Laubach, Jacob Napier, and Jakob Stender.

The Knights are looking forward to adding more alumni to this prestigious list!
Alexandria, MN (Dec. 14, 2021)
For more information, contact:
Johnny Van Atta, Director of Hockey Operations